Whilst I can appreciate that people that don't want to eat animal products might miss the taste of stuff like cheese and chicken and fish and therefore need vegan versions of these products to exist, I didn't really ever expect them to be too bothered about not being able to experience stuffed crust pizza anymore.
Images VIA
Apparently there are indeed a bunch of people out there gutted about this though, as Pizza Hut have seen fit to develop a vegan cheese stuffed crust. Pizza Hut are partnering with Violife and will use their cheese in the stuffed crust to recreate the taste and texture of real cheese in there.
To be fair, Violife is by far and away the best vegan cheese I have ever had in terms of what it's trying to recreate, so I reckon that this will probably be a great success. This has been echoed by Ciara Grace, Senior Menu Innovation Manager at Pizza Hut Restaurants, who said the following: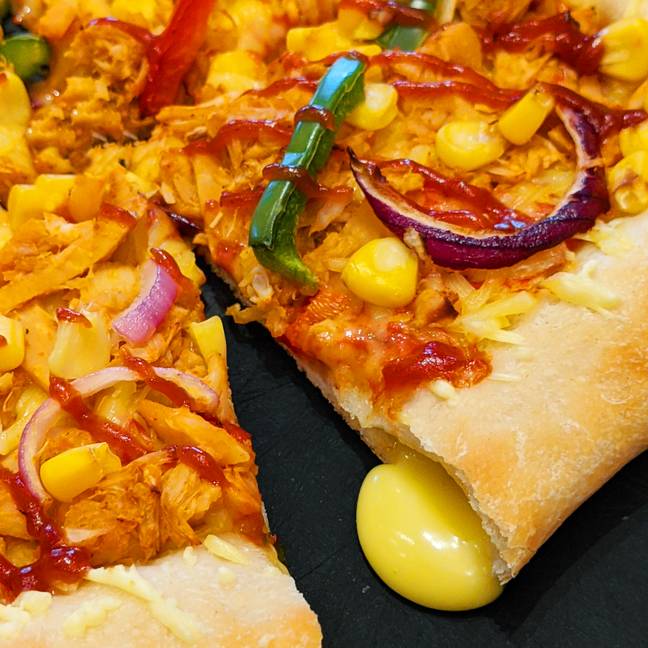 We're always looking into new and exciting ways to develop our menu and cater to as many guests as possible.
The Vegan Stuffed Crust was naturally the next step for us to grow our plant-based offering at Pizza Hut Restaurants.

We're really excited to launch the Vegan Stuffed Crust as we're confident it's going to be a hit on both taste and texture.
Yeah like I said I think they're probably gonna kill it on this one to be honest. The vegan stuffed crust is available now and will cost you just £2.50 to upgrade your pizza, which I'm pretty sure is the regular price anyway. No excuses to at least give it a go.
For more of the same, check out Pizza Hut collaborating with KFC on a popcorn chicken gravy pizza. That was a weird one.