The takeout food delivery market is really heating up these days with your traditional pizza places being challenged at literally every angle by the guys at Deliveroo, UberEats and now even McDonald's. So it makes sense that places like Pizza Hut are going to have to pull out all the stops to keep you ordering from them.
Featured Image VIA 
First up in this initiative is an item that they're calling the Pie Tops, which are a literal pair of high top sneakers that will order you a pizza if you squeeze the top of them. It's that easy. And don't forget that you also get to walk around all day looking like a complete sickhead in your Pizza Hut trainers too. Ain't nobody gonna think that isn't cool, right?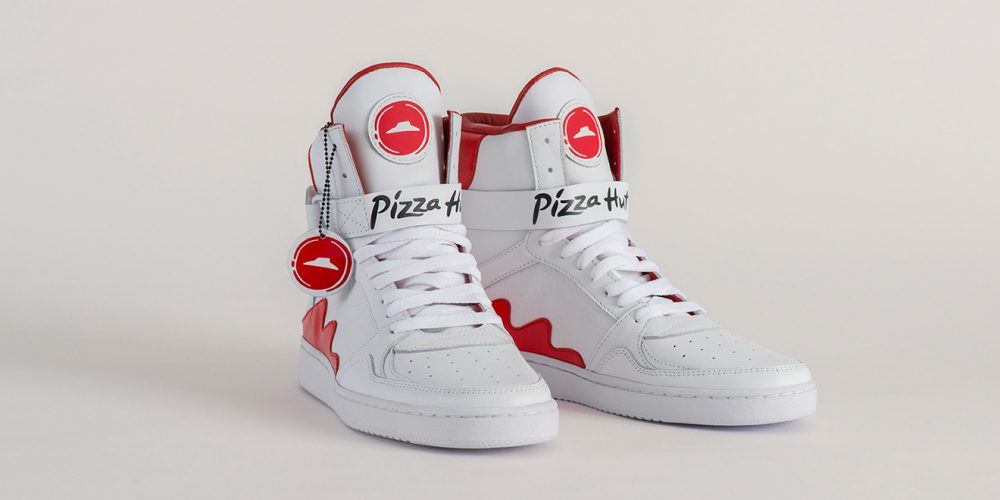 Unfortunately, it seems unlikely that you're ever going to get your hands on a pair of these, as much as you probably want them. There are only going to be 64 pairs of them ever made, and the majority of these are being given to the media and influencers, either of which you're probably not a member of.
There is a really small chance your number might come up though, as they're giving away a few pairs to fans. Good luck to you if you try.
For more Pizza Hut, check out their new hash brown rimmed pizza. Delicious.