No one has been more critical of Meghan Markle over the last year or so than Piers Morgan, even before she & Harry announced they were distancing themselves from the Royal Family, and many believe this stems from the fact that Meghan started 'snubbing' him since she became a Royal. 
Featured Image VIA
Well today Piers Morgan has gone deep into his own DMs and dug up a message Meghan Markle sent him back in 2015 saying she was a big fan of his. 
He shared the message with his 7.1 million Twitter followers: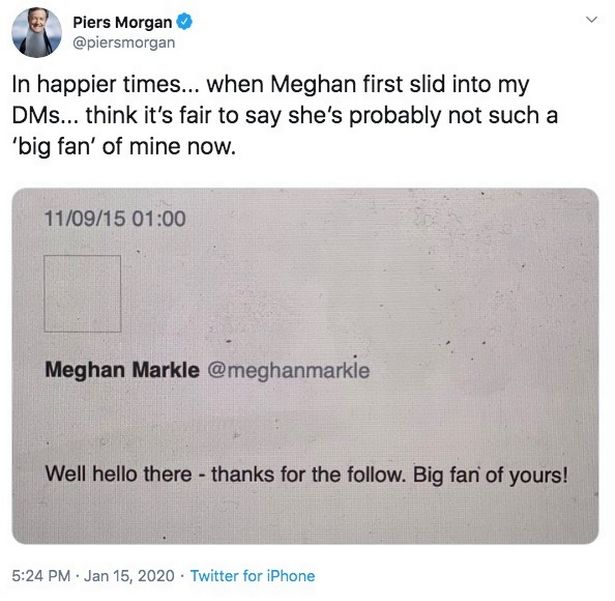 The responses to his Tweet are 80% people accusing Piers of being in love with Meghan as he just can't stop talking about her either on TV or on social media, but there were some other amusing responses too:
Prince Harry should have married Katie Price.
Much more classy and ladylike than the American trailer trash.
Being British she would have taken her Royal duties seriously.
And Harry would have been the happiest boy in the country.

— Enoch Thatcher-Rand-Hayek (@RandEnoch) January 15, 2020
You're in love with her aren't you. Just admit it

— Dominique Samuels 🇬🇧 (@dominiquetaegon) January 15, 2020
Fucking hell just skip the foreplay and get to the inevitable moment where you let your guard down and call her the n word so we can all go home

— Fake Carlton (@_CarltonCole9) January 15, 2020
Seriously, would you just shut the fuck up about it.

— Al Foran (@ImpressionistAL) January 15, 2020
5 years later, she's an internationally known princess and you're still a priiiiick 😄

— idk (@litasadiamond) January 15, 2020
"Big fan of yours". Shall I translate? Ok then: "You may be of use to me".

— Jane Chapman (@Fandybarder) January 15, 2020
I think that last Tweet may have hit the nail on the head. Although it could just be that she was being polite and paying him a compliment and didn't really care for him all that much to begin with.
Then again after Googling the whole thing it turns out that Meghan & Piers went for a drink at the pub together literally on the same day that Meghan went off to meet Harry for their first date. Piers said this in 2018:
Two years ago, I took Meghan Markle to my local pub for a drink (she had dirty martinis, I had Harvey's best bitter) and then put her in a cab to her first date with Harry.

That night, none of the locals knew who the hell she was. It appears they know now…
Well that's a bit bizarre. I'm actually a little bit more convinced now that Piers fancies Meghan Markle which would explain why he's behaving like a jilted ex-boyfriend. Then again this sort of behaviour is what Piers is all about – he's the ultimate troll which is why he gets paid millions to be one. His beef with Meghan Markle is actually pretty funny so hopefully he keeps it up.
For the time Piers ruthlessly ripped apart a man who identifies as a broccolli on Good Morning Britain, click HERE.