The United States was hit with their worst ever mass shooting in history on Monday, but two days later the question still remains: just why did Stephen Paddock choose to post up in a Las Vegas hotel room and let rip on the crowd below him with an automatic weapon?
Featured Image VIA
We still don't really have any information as to why he would commit this atrocity, but pictures of his body have now emerged and seem to show a note on a table next to his body. Police haven't commented on whether or not there was anything written on this and seem to be keeping all details close to their chest, but this information could be released in the coming days.
We're not going to show the picture of Stephen's dead body because it's not really in good taste, but here's the picture of the alleged note. If you want to know though, Stephen was wearing a brown shirt, black slacks, loafers and a pair of gloves and was pictured dead on the floor with blood pouring out of his mouth: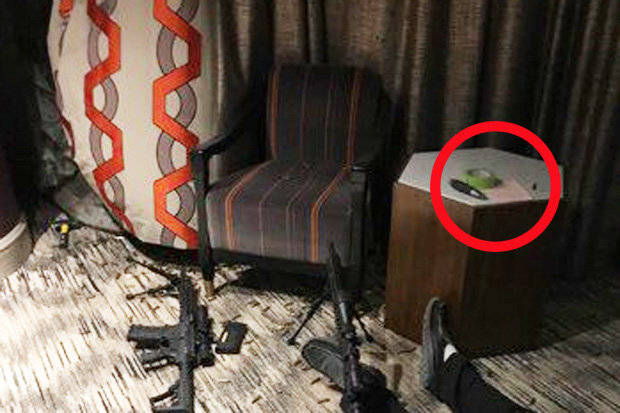 Grim. Hopefully the authorities will get to the bottom of this soon, although even if we know why Paddock chose to commit these actions it's not exactly going to bring back the 59 people he killed is it. RIP.
For more on Paddock, check out some more pictures from inside his Las Vegas hotel room. Disturbing.