Chloe Ayling has become somewhat of a minor celebrity after the news of her kidnapping was made public.
Featured Image VIA
In case you had missed the story, 20-year-old Chloe was returned to the UK earlier this month following a traumatic ordeal where she was allegedly lured to Italy and kidnapped by members of the Black Death gang – a notorious group that sells women on the deep web as sex slaves. She claims to have been drugged, gagged, handcuffed and smuggled in the boot of a car inside a suitcase to a remote village, where she was told her agent had to pay a ransom in order to halt her sale.
The whole incident has sparked controversy, as many people have accused Chloe and her kidnapper of staging the whole thing to make money, although as it stands the police state that the hijack is legitimate. The case is ongoing and you can read about the story from the beginning here.
Anyway, stories surrounding Chloe keep popping up and the latest involves a website that offers users live webcam chats with women in exchange for cash. It turns out the pictures of Chloe, who is a glamour model herself, are being used by Glamour Lounge Live. As you can see they've picked out a picture of her in her swimsuit, as well as one of her lying naked on a bed: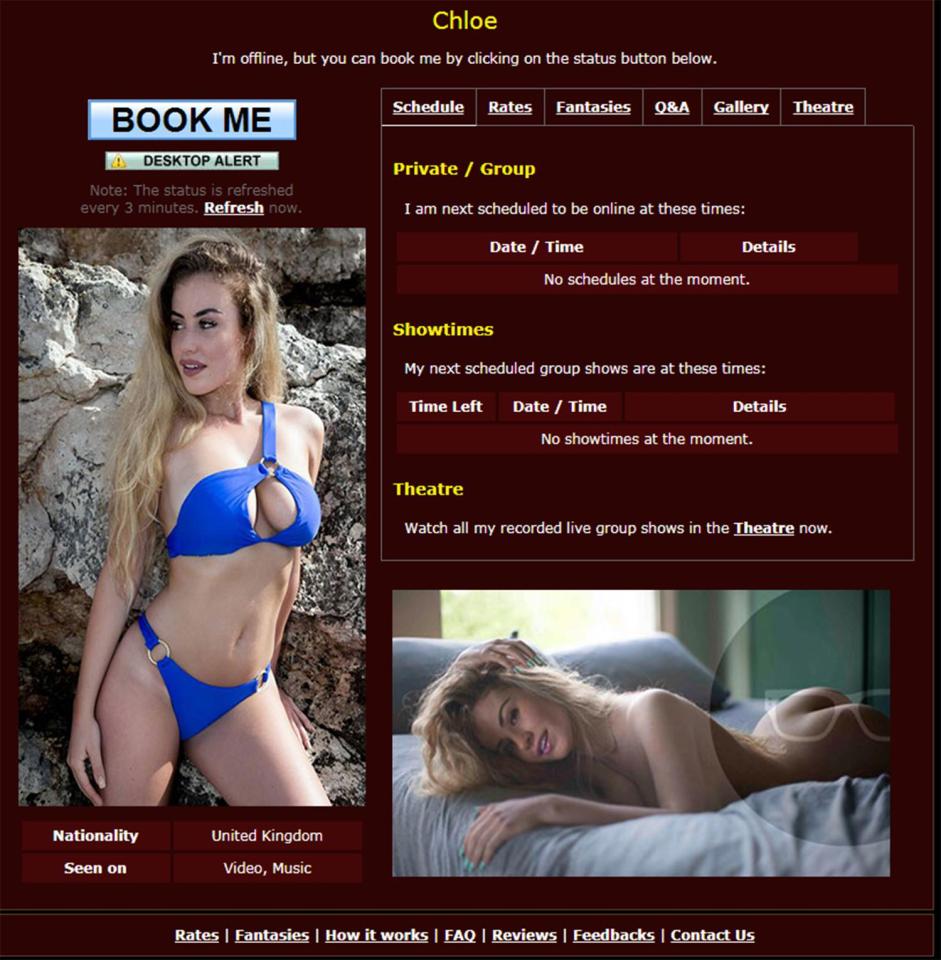 The site charges men up to £4.20 a minute to watch women undress and engage in sexual acts during live shows, and some women can be booked for full sex. At the time of writing there is no suggestion that Chloe sells her body for sex, or whether she has been involved with this website. She also reportedly has no idea that her pictures are being used by Glamour Lounge Live – she might be in the glamour business, but something tells me she's not going to be happy when she finds out.
As we've said with every story on this bizarre case, we'll keep you posted as and when more information comes in. Hopefully police over in Italy and here in the UK can get to the bottom of it and find out whether this woman really was kidnapped by the notorious Black Death gang, or whether it was all in fact a ruse to make money.