For years now Steve McFadden's 'Eastenders' character Phil Mitchell has been the internet's favourite meme. I don't know what it is about him that people find so tirelessly amusing – perhaps it's the combination of his red-face, bald head and the fact that he's managed to outlast Dot Cotton's fag stench.
Featured Image VIA
Whatever it is, Phil Mitchell is a national treasure and someone who has recognised this is Doug Pledger, creator of website and Facebook page 'Utter Philth'. So far Pledger has created hundreds of collages, kaleidoscope images, GIFS and even genuine pieces of artwork, all dedicated to the "master of menace" Phil Mitchell. Sick Chirpse was lucky enough to catch up with Doug to find out more about the Philthy bastard:
How did Utter Philth start and what triggered the idea to base an entire media platform on Phil Mitchell's character?
All this mess started many moons ago, about 2001… something like that. I made up a bunch of stupid fake Phil Mitchell posters, just for a laugh to stick up at work. At the same time I met osymyso, a DJ who had a few years beforehand made a track 'Pat and Peg' using clips of Peggy and Pat from 'Eastenders'. Clearly we had something in common.

Over the years we worked together a lot on various things but it was late last year we decided to go forth with 'Utter Philth' for a laugh. He'd do the music and I'd do all the graphics and editing etc. One thing led to another and we ended up with a stack of dumb pictures and videos. Phil's the perfect choice as Phil is Phil. Peggy is Peggy but also Barbara Windsor. There's a certain mystery around Phil. That and his character is brilliant.
What do you think it is about Phil's character that people find so comical? 
I can't speak for anyone else but I imagine people find different things funny about him. I find the show particularly funny because at some point every character has tried to destroy one another yet they all seem to forget pretty quickly. Phil's been there so long he's had a crack at everyone and married the rest.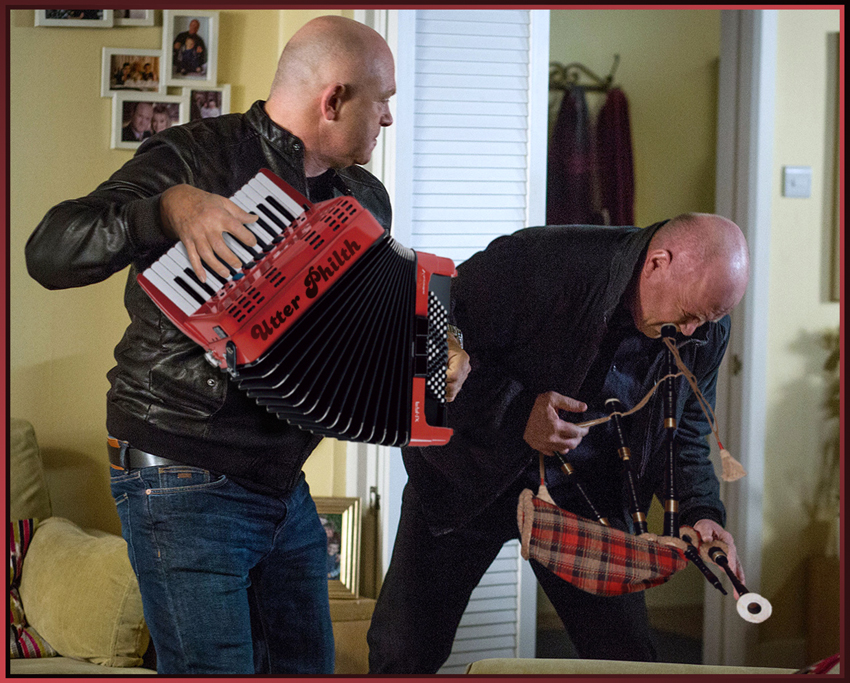 The Rubik's cube, Kermit the Frog, the Scotch egg – your videos and pictures have created some unique ideas that have become well known to 'Utter Philth' fans. Where does it all come from?
Not a clue – quite often the clips and images present the ideas rather than the other way round. The Kermit thing came from me picking my daughter's Kermit doll up and photographing it for the 'Phil's Phobia' bit. It was originally going to be a pile of Rubik's cubes but at the last minute I saw Kermit laying on the floor and thought that'd be funnier.
What do you think Phil Mitchell would say if he ever stumbled across 'Utter Philth'?
Phil using a computer? Yeah right.
Has Steve McFadden ever seen the site and if so, does he love it?
We still have no idea if he's seen it or not. The thought of not knowing though suits us fine.
Your memes are nothing short of works of art – what's your background in, and what were you doing before this?
Thank you. Before this I was working on a series of children's books with my wife and before that, making a website in which you can spell out your name in dog poo. I also draw cartoons and do a bunch of other wonky stuff, and you can see a lot of this work here.
Are you an actual fan of 'Eastenders'? 
No. Neither of us watch it. I have watched the odd episode here and there but it's only to ever find Phil's bits. Couldn't tell you what's going on with the rest of Albert Square.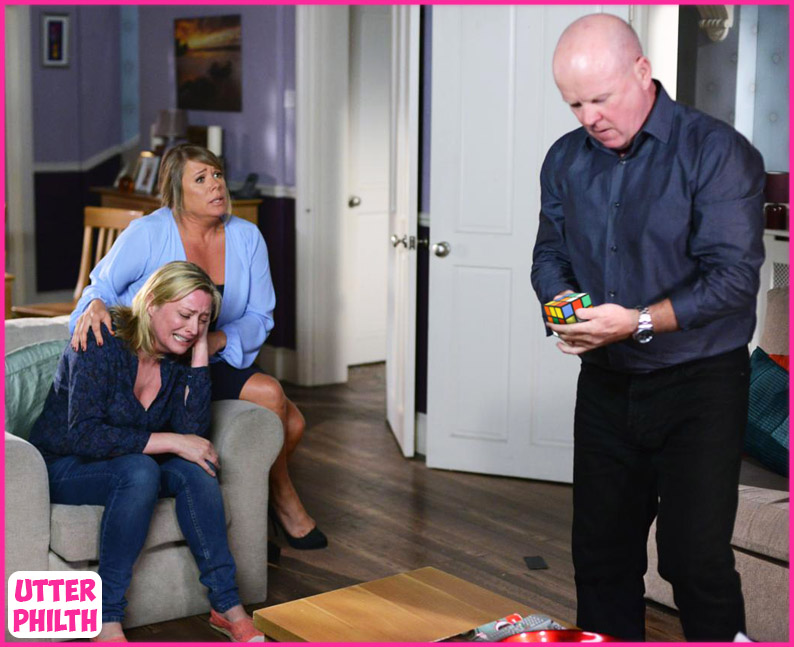 What's in store for the future of 'Utter Philth'? 
We're working on a few christmassy bits and pieces but the best ideas come to us when we least expect. You try to overthink things and do what you think people will like and it all goes balls up.
Well, thanks to Doug and all the luck to 'Utter Philth'. We can't wait to see what's in store for Albert Square's favourite character in the near future. While we're on the topic, we thought we'd end with our personal favourite 'Utter Philth' video. Enjoy: