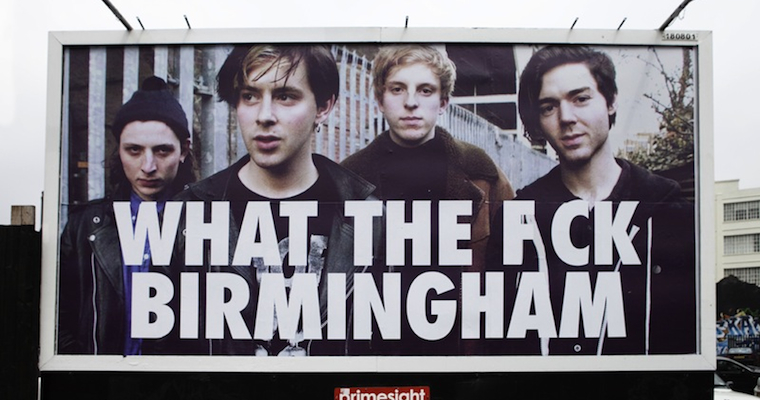 Ages ago at the Vice Project X party that Sick Chirpse attended back in May I ran into my old buddy Dom Ganderton who was doing front of house for a band that was playing at the party. Pretty hip. I got there too late to see them but Dom actually knew loads about Sick Chirpse even though I hadn't spoken to him for over a year so that was pretty cool. I know Dom from when he was touring in either Fast Reaction or Paige and we used to hang out and play gigs together in different cities and party together. It was a cool time. He's a real party guy and a real good guitarist. Anyway he asked me to plug this band he was working for Peace and I said I would but it was right before I went to South America for two weeks and things were kind of hectic and then when I got back I kinda forgot about it. Not one to renege on a promise though, here (finally) is the plug.
Peace are a band from Birmingham and I don't know any of them except for Dom and they play grungy/trippy kind of music I guess – a fusion of like Kasabian, Smashing Pumpkins and the Stone Roses or something. They're the kind of band that would definitely have played the Flapper a bunch of times as they were coming up but that is pretty cool if you ask me. I used to love playing the Flapper. Anyway, they probably don't do that anymore though because they've just signed a record deal with Columbia and now do stuff like go on European tours with the Manic Street Preachers. To be honest they probably don't even really need me to write this blog pumping them up now but hey I guess I'll do a buddy a favour and jump on the bandwagon. Right now they've only got this one song out called 'Follow Baby' but it sounds pretty decent – you can check it out below. The video is kind of cool and features a bunch of people running around a purple hill with their tops off making out with each other. Trippy.
[yframe url='http://www.youtube.com/watch?v=35x3W4G0n50′]
Yeah Peace seems kind of cool, it's not really the kind of thing I'd listen to normally but I'm all about supporting my friends and it seems like the kind of thing that will get popular. However, Peace did do one of the coolest things ever when they signed to Columbia. In order to seal the deal they made Columbia buy a billboard in Digbeth (the Shoreditch of Birmingham) and put their faces on it, with the immortal phrase 'Birmingham, What The Fvck?' underneath it. That is fvcking cool. Half of being a rockstar is acting like a rockstar and on this evidence, it would seem like Peace have a big career ahead of them.