A 'sexist' gorilla has been sent for therapy after biting one female gorilla and sneering at others. Patrick was moved from Dallas Zoo to Riverbanks Zoo in South Carolina where he'll be kept secluded from other gorillas as they work on his attitude towards females.
It's worth noting that Patrick, born in 1990, was abandoned by his mum at birth. He only had one mate — another male gorilla named Jabari — who was shot dead in 2004 after escaping their enclosure and injuring three people. This is Patrick and Jabari chilling back in the day: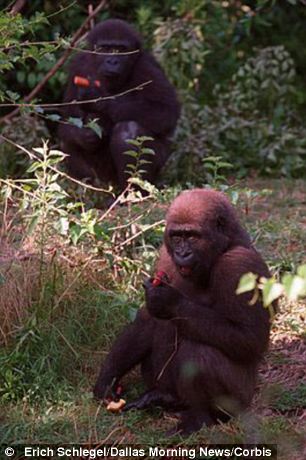 Patrick doesn't like girls, plain and simple. Just not into them and who can blame him given that history? Not his fault the zookeepers keep sending female gorillas to mate with him — he had to send the message somehow that he wasn't going to play along.
Is Patrick the Gorilla is gay? Possibly. Maybe this isn't a sexist issue at all. Maybe the best bet for everyone involved would be to stick Patrick in an all-male enclosure with like-minded gorillas and let him live the life he wants to live.
☛ Next: Bear And Money Bike Race Ends With Bear Eating The Monkey