'There is from time to time a case which is so shocking that it undermines one's faith in humanity. This is one of those cases' – this was the phrase used by Judge Michael Kay QC in Luton Crown Court today as he sentenced 33 year old paedophile Michael Emerton (pictured above and below) to nine lifetimes behind bars for his crimes.
Images VIA
You might not want to read on if you're easily offended because Emerton's crimes are literally beyond horrendous. Everton recruited members of his paedophile ring via Grindr, Skype and Tru Nude and would then live stream himself raping children to them. He was found guilty of 20 offences including, four counts of raping a child and three of causing or inciting a child to engage in sexual activities.
The eight other members of his gang were given much less harsh sentences despite their offences, with the longest being ten years and the shortest being two years. Considering almost all of them were found guilty of conspiracy to rape a child and many of them were found guilty of actually raping children, I think that's a bit too lenient considering Emerton's sentence. In fairness though, their lives in prison are going to be absolute hell so maybe that will be enough to punish them for their crimes.
Chief Inspector Dee Perkins said this about the case: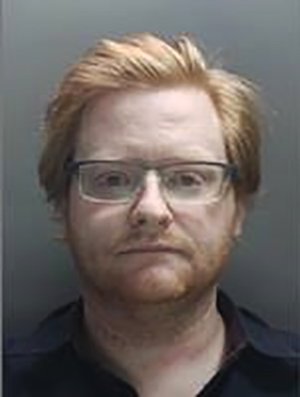 This was an extensive inquiry which resulted in the sharing of intelligence with more than 50 other law enforcement agencies. No stone has been left unturned in the search to identify and protect victims and bring those responsible for these despicable acts to justice.

Emerton – the paedophile at the centre of this investigation – mercilessly exploited children for his own sexual gratification and for those other men who he met on line. The seven life sentences he has received reflects the disturbing nature of his actions.

Work is on-going to support the victims and make sure they have the best possible chance of a normal life ahead. I would like to pay tribute to their bravery throughout this process.

I would also like to pay tribute to the professionalism and dedication of my officers who have worked tirelessly to bring this case to court.

Not only was this a large and complex investigation but also one that involved working through a large amount of video evidence in which this group had documented their own horrific crimes. Our reward is to see these men behind bars today and for many years ahead.
I gotta say, sometimes I wonder what the cops are doing but it sounds like they absolutely nailed it with this investigation and helped save a lot of people and took a lot of evil people down. Good work and I hope these absolute scumbags get what's coming to them in prison. There is absolutely no redemption for their actions.
For more paedophiles getting what's coming to them, check out this Russian one getting battered by paedophile hunters. Unlucky mate.