As usual with these things, the new series of Winter Love Island is off to a controversial start after contestant Ollie Williams left the villa after three days, claiming that this was because he was in love with someone else. Lol.
Featured Image VIA
Obviously nobody really believed this because it was super lame and also considering that there was a petition going around to remove Williams because his past as a trophy hunter had come to light and there had been about 500 complaints made about him to Ofcom in the first couple of episodes, but today Ollie has come out and denied it straight up via his Twitter account. He also dissed everyone who was slagging him off on Twitter, saying they probably grew up on council estates:
(Funnily enough as I was writing this it looks like somebody hacked Williams and made his account private, so I could only get these screenshots of his account, which has been changed to 'idiots111111'. Unlucky pal – although I guess he might try and pass his comments off as being hacked as well – who knows? Certainly not the first time some shitty celebrity has used that excuse)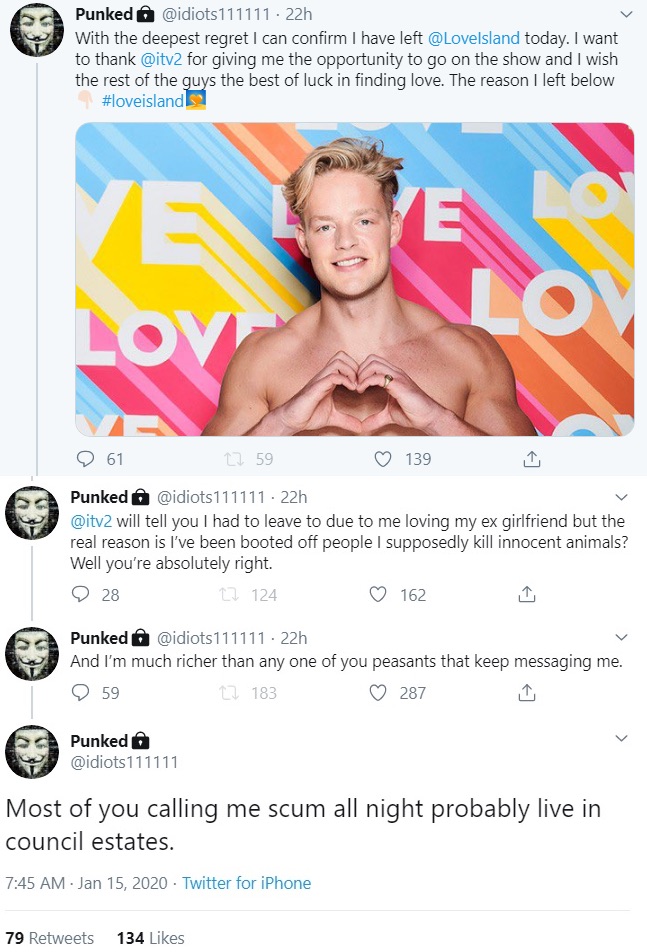 Lol. Looks like he's going to play up on his image of being a complete dickhead now that he's out of the Love Island villa, but I suppose it's getting people talking about him isn't it? Sure they'll be some great public appearances and other ridiculous comments in the upcoming months. Looking forward to it. Kinda.
For more of the same, here's Ollie's lame statement when he got booted off Love Island. So wet that they made him say this.