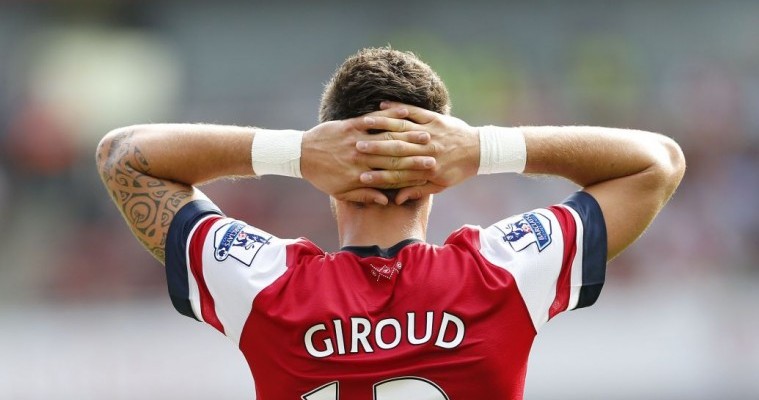 I haven't been keeping up with how Olivier Giroud's doing because in my mind I'm still replaying that moment on his debut for Arsenal when he should have won the game in the dying minutes but screwed the golden chance horribly wide and everyone laughed at Arsenal because this was who they'd brought in to replace Van Persie.
Well the other night the goons were getting their pants pulled down by winless Reading in the League Cup. My flatmate rushed in to tell me it was 4-0 to the 18th-placers after like 30 minutes or something hilarious so naturally I whipped out my laptop and stuck on a dodgy stream to let the comedy commence. And comedy it was. It was like watching a Sunday league game down at your local park.
☛ More: Why It's Impossible To Like Arsenal
It was pretty embarrasing watching Andrei Arshavin scurry around chasing the ball like some sort of weird, sweaty dog. Unfortunately, Walcott pulled one back just before half-time and it was pretty obvious that Reading were in that changing room absolutely shitting themselves that they were gonna let the arse back into it. And, thanks to Giroud coming on at about 60 minutes and helping to camp Arsenal in the Reading box, they did.
They didn't let the third in until the 89th minute and then 5 minutes of panic ensued. Kevin Friend completely bottled giving Koscielny a second yellow and, in the 6th minute of 4 minutes of added time, allowed the the jammy fuckers to go down the other end and bulldoze the ball through a tired and confused Reading defence for that fateful equaliser.
I turned it off at that point, thoroughly unamused, but the funny thing is, so did Giroud and Coquelin. Convinced their work was done, probably under the impression that League Cup games are important enough to reschedule for a replay, they walked over to the Arsenal fans (well, the ones that hadn't left on 38 minutes like absolute twats) and threw their shirts to them. Then some goonie comes over and tells dear Olivier that the game isn't over and he needs it back, so he has to return to the crowd and ask for his shirt back, looking like a right numpty. It would have been funnier if they hadn't given it back and he'd had to walk back over to the team talk with no shirt. Actually, it would have been funnier if Arsenal had just lost like they were supposed to, because they were fvcking pants.
☛ More: Robin Van Persie Jr Is Just As Sick At Football As His Old Man
☛ More: Best FIFA '13 Demo Glitches
Here's the vid:
[yframe url='http://www.youtube.com/watch?v=niE8MG3HuVM']