Instagram model Kristina Mendonca was doing her thing on the beach the other day when suddenly her video received a surprise cameo from the only specimen on the beach more sexual than her. 
Featured Image VIA
Behold the human embodiment of sexual energy and beauty…. and Kristina Mendonca:
https://www.instagram.com/p/BuqZ51PhscX/?utm_source=ig_embed
What an absolute OG. Just a delightfully round, smiling old man rocking up in his speedos without a care in the world, letting his belly hang out and giving zero fucks about Kristina's videoshoot. I mean just look at the guy's face – he might be one of the happiest, most content people on the planet: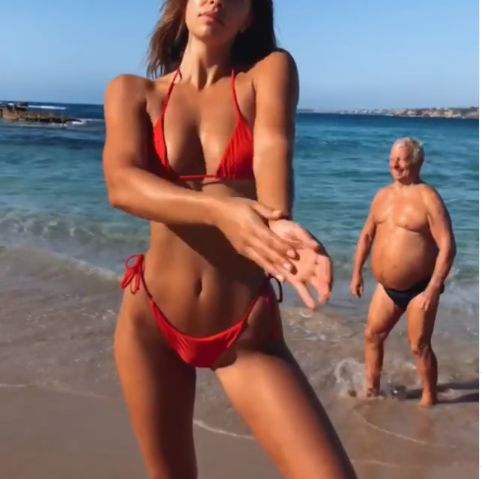 I bet he was hooking up with models like Kristina all the time in his younger days. No wonder he can't stop smiling as he looks back on a life well lived. And hilarious that he unknowingly sent a model's Instagram video more viral than it had any right to go.
To watch another Instagram model get a chunk of her butt bitten off by a wild pig, click HERE.