A nuclear power plant over in the Czech Republic have come up with a rather unique way of finding new interns.
Featured Image VIA
Instead of holding interviews or meetings like most regular companies, they decided to hold a bikini contest. The power plant CEZ has been forced to apologise for the Facebook competition, which saw ten bikini-wearing high school graduates posing in the cooling tower of its Temelin nuclear power plant.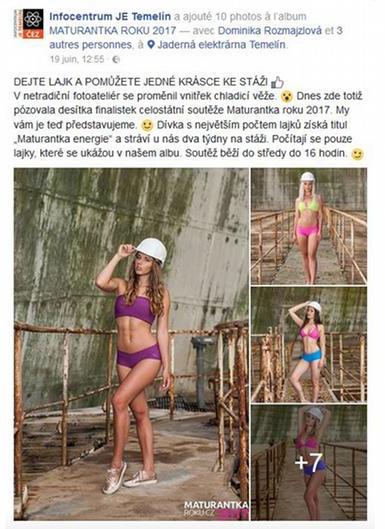 People were urged to vote for their favourite, with the most popular to win a 14 day internship. Yeah, who needs qualifications and skills to handle nuclear power when you've got a smoking hot body, am I right?
https://www.youtube.com/watch?time_continue=94&v=0R8XhoANuaE
Petra Havlíková, a lawyer for human rights non-profit Nesehnutí and an equal opportunities adviser, said:
The competition is absolutely outside the bounds of ethics. In 2017, I find it incredible that someone could gain a professional advantage for their good looks.

Undress and you get an internship – this can not be serious, it's degrading, disgusting and primitive.

Knowledge obviously does not matter.
Following a backlash of criticism both online and in the media, CEZ apologised on Facebook and said that all finalists were offered an internship. I guess they'll just have to host the bikini beauty pageants in their free time now.
For the time a Chinese mall held a bra unbuckling competition to celebrate International Women's Day, click HERE.