Police over in Swindon are apparently keeping an "open mind" after receiving a report that a Noel Gallagher lookalike was licking windows whilst drinking a bottle of White Lightening in the town centre.
Featured Image VIA
North Swindon Police shared the outrageous sighting on its Facebook page, saying:
You know it's going to be one of those shifts when you get a report of 'a Noel Gallagher lookalike swigging from a bottle of White Lightning and licking windows!'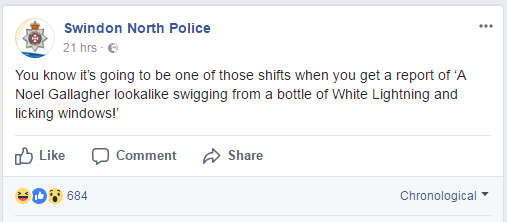 Now before you start thinking that Noel's lost the plot, it has been confirmed that the real Noel was nowhere near Swindon over the weekend and was in fact performing with U2 in Sao Paulo, Brazil.
Of course people seized the chance to roll out the Oasis-themed puns, with Wiltshire Police coming out with this statement:
We received reports of a man resembling Noel Gallagher in Swindon at around 5.30pm yesterday who appeared to be under the influence of alcohol and was licking windows – not a Wonderwall and he may have been Half the World Away.

It's believed he was with another person causing a general nuisance.

The incident was nowhere near the Oasis, but in the town centre, near the Wyvern Theatre.

If anyone heard or saw anything suspicious in the area, please Don't Look Back in Anger but contact us on 101.
Those are some unbelievably shoddy Oasis references, but I guess when something like this goes down in your area, you've got no choice but to roll with it…
For the time Noel Gallagher absolutely decimated Harry Styles over his debut single, click HERE.