Have you ever thought that it might be better at your wedding if everyone was completely and utterly baked off their faces instead of completely and utterly wasted?
One couple called John Elledge and Whitney Alexander over in Oregon decided to do exactly that by offering a weed tent with 13 different strains of marijuana at their nuptials. There was even a budtender for those guests who didn't know how to smoke weed properly.
It was all perfectly legal – in Oregon, as long as there's no liquor licence or bartenders involved, it's OK to have a budtender on private property apparently. And yes, the couple laid on a huge buffet for everyone who got the munchies, which was presumably the whole congregation.
Featured Image VIA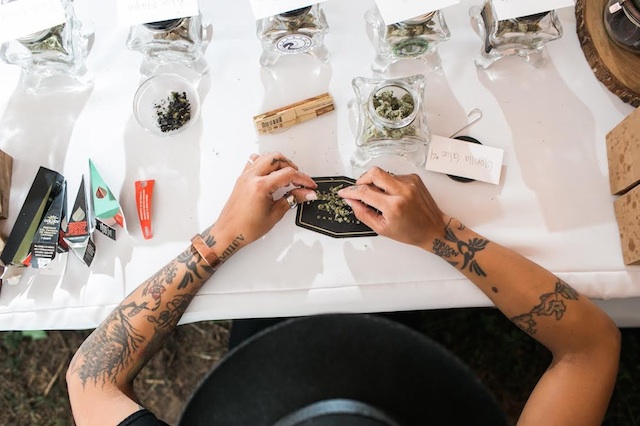 Image VIA 
Elledge – who works as a professional weed grower so probably saved himself a shit load of cash by offering weed instead of booze to his wedding guests – said the following:
We were shocked by how much people loved it.

I'm still getting a couple of texts a day from guests who enjoyed the weed tent.

Even an 81-year-old woman who hadn't smoked weed since the '60s came into the weed tent at our wedding.

Though skeptical at first she ended up loving it.
Notice the phrase 'weeding'. I hope that doesn't become an actual term in the future. I mean I enjoy a good zoot every now and again, but if I went to a wedding and there wasn't any booze and I could just get high I would be pretty pissed off. It's just not really the right occasion for it, you know, but better than holding your wedding reception at McDonald's I suppose.