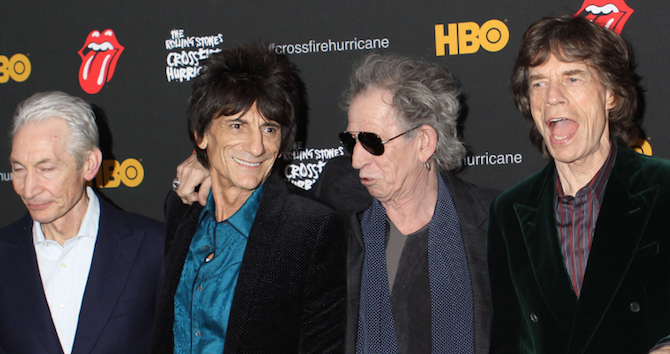 Self-congratulatory music industry sycophant the New Musical Express hosted a glorified PR event on Wednesday night. It was called The NME Awards and gave out stupid-looking statues to a bunch of musicians, full-time laggers and whoever else could be bothered to turn up. Unlike other "corporate" award ceremonies, the NME likes to think its shindig is all down-with-the-kids because it gives out awards based on reader's votes. The whole thing is so rebellious that the award itself is a faecal-bronze mold of a large raised middle finger. Take that, authority!
Lots of struggling underground bands including The Killers and Biffy Clyro got awards, because the NME and its readers are passionate about discovering new talent and figured these acts deserved the exposure. Large corporations including Spotify and Carling sponsored some of it – yet another triumph of true independence over cynical commercialism. At one point, Harry Styles was voted Villain Of The Year, presumably because everyone is jealous that he gets more pussy than them. Oh yeah and One Direction were proclaimed worst band, because picking on boy bands means you're really rebellious and think outside the box.
☛ These Awards Are Actually Kind Of Cool: The Humpy Awards
Professional fraud Florence Welch got two awards before going back to her table in her blue frock, drinking free wine and wondering how long she'd have to wait before she could skulk off to do coke in the toilets at The Ivy. A really obscure arthouse movie called The Hobbit was awarded best film (for fuck's sake, did no-one see The Avengers? That pissed all over it) and the guy from Muse was proclaimed sexiest man (girls, you do realise Ryan Gosling is in a band don't you?) and someone called Amy Lee was designated sexiest female. I had to Google her and it turns out she's the singer from Evanessence. Score one for the goths!
The low point of the evening, and definitely the wrinkliest, was when The Rolling Stones were voted best live act. The Rolling Stones. Out of all the bands slogging their guts out up and down the country, playing their hearts out every night, the best one on the entire planet (this year at least) was a quartet of pensioners whose glory days are long behind them (fun fact: the band played about five shows last year). Ronnie Wood stepped up to collect the award, looking for all the world like an 80-year-old meth addict who has replaced his skin with dried beef. Then he played some guitar without trying to fall over.
☛ More About Old Irrelevant Musicians: Old Musicians Rising From The Grave
Admittedly a 'Godlike Genius' award was presented to Johnny Marr (true dat), but we all knew Johnny Marr was a genius ever since the first Smiths album back in 1984. You may as well give fillet steak an award for tasting nice. It's the most obvious thing on the planet. Anyway then the whole thing finished and everyone got wasted and hung out in the toilets, either doing blow or fucking each other. Next week the NME will put the whole shitfest on its front cover and proclaim how awesome it is in order to please advertisers and subscription-holders.
The magazine is very pleased with its annual farce. NME editor Mike Williams said, and I quote: "The Brits have their place, but we like to think of our awards as the best rock'n'roll party of the year." He could save himself a ton of time, money and hassle by teaming up with The Brits next year as the two ceremonies are so risk-free as to be virtually identical. This debacle speaks volumes about the NME, and the merry dance it leads its readers on as they blindly lap up whatever they are fed. The magazine is as rock n' roll as a copy of Grazia, and just as hysterical. Nice work, guys. Truly nice work.
☛ More Awards Shows That Suck: The British Comedy Awards Had A Distinctive Lack Of Comedy About Them