We've seen Nik Wallenda do some genuinely terrifying stuff over the years – remember the world's highest blindfolded rope walk? – but his latest 'death-defying' stunt has left people very disappointed indeed.
Featured Image VIA
Last night, Nik walked a tightrope over an active volcano on national TV. Guess what? He made it across no problem. Which would be impressive if he wasn't wearing a harness the whole time and therefore not really risking his life in the slightest. Here's the footage:
I guess the idea of falling into a volcano and burning to death was too much to handle? Fair enough, but then why put this shit on TV?
People on Twitter were NOT happy I tell you:
Take the harness off you fraud! @NikWallenda #VolcanoLivewithnikwallenda pic.twitter.com/hPYYCHuj2e

— dan j (@DanJ_official) March 5, 2020
Nik Wallenda ain't even being brave with that safety harness. I just grabbed my pizza bagels out of the toaster oven WITH MY BARE HANDS.

— Karl Anthony Towns MVP (@tygreg2) March 5, 2020
what a bunch of bullshit!! Nik Wallenda is using a safety cable/harness… this isn't exciting at all man, what a dud!!#nikwallenda #VolcanoLive https://t.co/8HzxTGnfYo

— Sportsman Nate (@foursticks_nate) March 5, 2020
This nik wallenda guys trash. Live tv and he goes for the harness and then tells us all about his book the whole time. This things such a set up ! #VolcanoLive

— Zach Glynn (@glynn_21) March 5, 2020
Does this dude Nik Wallenda have a safety harness on?!? I hope he doesn't fall and dangle!!

— Jason Hill (@Jhill1636) March 5, 2020
How is this Nik Wallenda bullshit a thing…he has a safety harness on…there's NO drama with this

— GEWII (@gweb43) March 5, 2020
If you search 'Nik Wallenda' on Twitter it's basically just Tweets like that ripping into him. Which is fair enough really because they were selling this as Wallenda's new death-defying stunt but it turned out to be the opposite of what people expect from him – no risk or danger at all. If there's no chance you're going to fall into that volcano and be boiled alive by lava, does it really count as tightrope walking across a volcano?
He never used a harness in the past, like when he walked across the Grand Canyon a few years ago: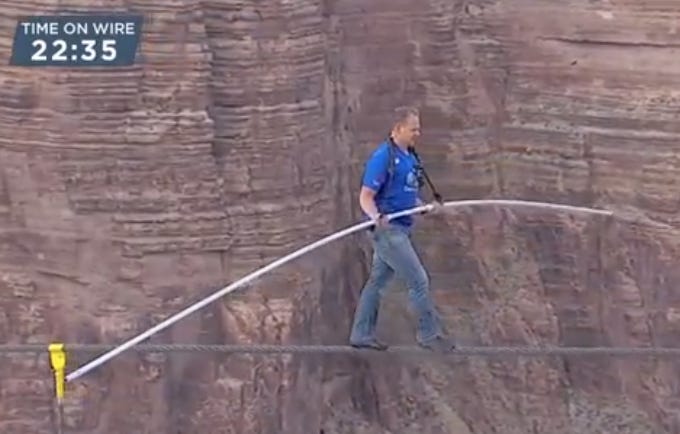 That's how you do it. Might as well use a green screen if you're going to stick a harness on and remove all the suspense.
For insane footage of two daredevils attempting a skyline rope walk between two hot air balloons, click HERE. Key word = "attempting".