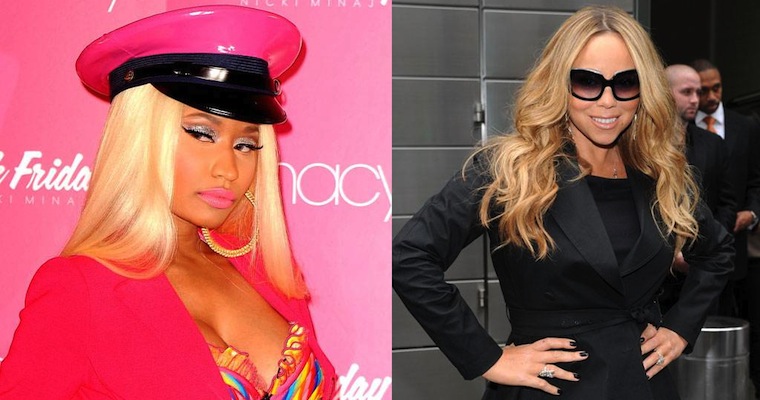 Y'all know who Nicki Minaj is right? That crazy bitch who looks like a Pokemon. Well apparently she's threatened to SHOOT Mariah Carey while sitting on the X Factor USA judges panel during a bust up. Yeah that's right, threatened to SHOOT Mariah Carey. What a crazy biatch.
While filming in North Carolina last week, Minaj and Carey started bickering about some stupid shit that girls bicker about, when Minaj took it one step too far and stated 'If I had a gun, I'd shoot her'. LOL. A bit over the top surely?
Minaj also threatened to knock out Mariah Carey, after calling her a 'bitch' and 'her fvcking highness'.
Check out a recording of the beef below, and a transcript of what was said between the two divas.
[yframe url='http://www.youtube.com/watch?v=RJCY_3O57qY']
NICKI: 'Think I'm playin? Think this sh*t is a f*cking joke? Think it's a joke? Think it's a joke? Think it's a joke? Say one more disrespectful thing to me, if you say one more disrespectful thing to me — off with your head!'

MARIAH: 'I am not being disrespectful.'

NICKI: 'Off with your head, off with your head.

'Don't tell me I'm insecure, don't tell me I'm inadequate… you gonna get sent [inaudible] just fall back. Don't… you don't know [inaudible] I don't feel inadequate. You're the insecure one sitting up there running down her resume every five minutes.

'Every time you take a shot at me I'mma take it back, and if you gotta f***ing problem then handle it. I told them, I'm not f***ing putting up with your f***ing highness over there… figure it the f**k out. Figure it out.

MARIAH: 'Why. Why.' 

NICKI: 'Figure it out.'

MARIAH: 'Do I have a three-year-old sitting around me?'

NICKI: 'I'm not sitting here for 20 minutes and having you run down your resume everyday, No! Goodbye!'

MARIAH: 'Listen, I can't see my kids because you decided to make… to have… to have a little baby fit and going all around the stage.'

NICKI: 'Good, well then go see them now, go see them now … you're boring as f**k, you're boring as f**k.'