As if the news that Neymar's mother was now dating a 22 year old gamer who is six years younger than her wasn't tantalising news enough, it's now emerged that Tiago Ramos is actually bisexual and has dated and been married to a number of men in the past before his latest beau. Salacious!
Featured Image VIA
The news comes courtesy of Brazilian newspaper O Dia, which claims that Ramos dated Neymar's personal at PSG Mauro for a time, as well as famous Brazilian actor and stand-up comic called Carlinhos Maia and a PR consultant in Sao Paulo named Irinaldo Oliver. They're also saying that he was married to a millionaire businessman called Eduardo Pereira for three years as well.
Sounds like there are some shades of Joe Exotic and his young entourage there, but even so the guy seems to have led quite the life for a twenty two year old hasn't he? Guess abs and gaming ability will get you in the door anywhere.
Here's what Oliver said to O Dia: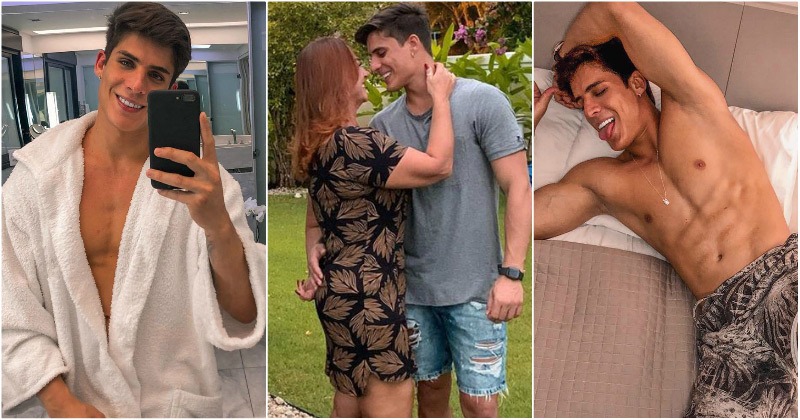 I was with Tiago from 2017 to the middle of 2018.

I was shocked by this news about his new relationship and my phone hasn't stopped ringing.

I began to receive photos of him with Neymar's mum. I'm astonished. I always knew he saw women as well but I had never seen him with any.
Yeah I guess if you were just dating a guy and they started hooking up with Neymar's mum you would be pretty astonished no matter what the context, so I can see why he's so shocked about it. Fair enough.
As for Neymar's mum and Ramos, who knows what will become of their relationship after these new revelations? Would like to think that Ramos has been up front about his past dalliances with her and even if he hadn't that this new information wouldn't affect her too much anyway if she was as in love with him as she was previously claiming to be, but you never know with these things.
Kinda has the air around it of a relationship that lasts around two weeks, but we'll see. One thing's for sure though, Neymar is probably going to get badly out bantered by Kylian Mbappe when they're back in the PSG training room about it all, whatever happens.
For more of the same, check out Neymar barging a young kid off the ball after he got tackled in five a side. Ouch.