One of the biggest problems with the Coronavirus in this country is that the government doesn't have enough testing kits to get everyone diagnosed, but now one shopkeeper up in Scotland reckons he has imported 5000 boxes of them from China and is selling them for £750 a pop. How the hell has that happened?
Images VIA
Nadeem Anwar is selling them from his newsagents Partick Superstore in Glasgow and says that they're 92% accurate and he can't understand how the government hasn't been able to get its hand on them either. Here's what he had to say:
(Just to be clear each box contains 25 tests, meaning he has enough for 125,000 tests. He's sold 1000 of the boxes already)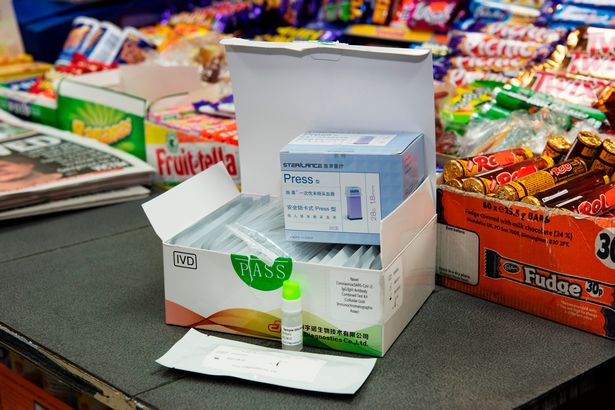 I like to be at the forefront or try to be ahead of the game whenever there's a growing demand for things that could help the ­community or public in general.

I've got friends and family high-up in the biomedics and pharmaceuticals industry. I know a shopkeeper having these kits is weird but it's business.

I'm hardly making any money on these, the profit margin is small.

I have certificates to prove that my tests are legitimate if anyone in authority comes in and challenges me.

The kits are CE and MHRA registered. I'm untouchable.

They're 92% accurate – I think that's good enough for people to use. I've sold 1,000 to a pharmacy chain, I don't want to say which one.

These kits are available for me to supply any government body, GP ­surgeries, clinics, pharmacies and any major employer.

I don't understand how I can get these antibody kits but the NHS can't.

These should be used on the ­frontline workers, they could get the kits from me. Maybe it's because they come from China and the Government doesn't trust the Chinese.

It's a shame. I've tested all my family and they all came back negative. Each test takes about 15 minutes to produce a result, it's straightforward.
I mean yeah I am gonna bite here and say it's weird this guy has 5000 boxes of the test kits sitting in his shop up in Glasgow. For one, if he's not making that much money off them let's say that the boxes cost £600 each to import, does that mean that he just had a spare £3 million lying around to get them over here?
That's a major red flag right there but I also can't really believe that he's the only person in the country who's smart enough to come up with this plan and he's just a shopkeeper. Not trying to demean his profession but you might think if he had the entrepreneurial skill to figure something like that out then maybe he would have done some major business in the past.
Although I suppose he does have a spare 3 million to drop on this project so maybe he already had. Either way, SOMETHING about it doesn't add up.
For more of the same, check out Dr Hillary Jones saying Coronavirus testing kits are a bad idea. No shit.