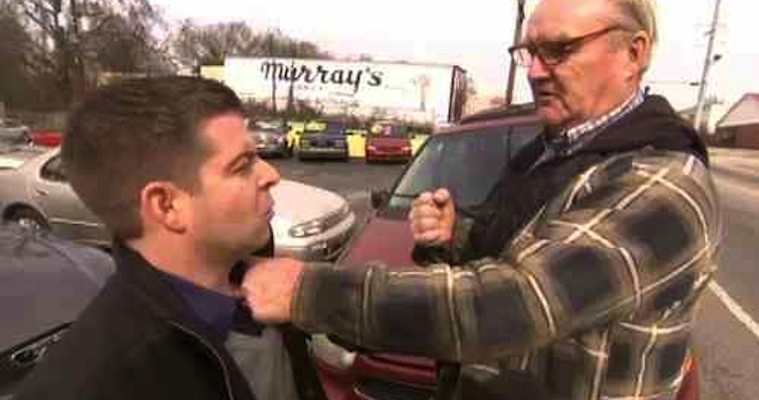 When Jeff Chirico was investigating this case of fraud, he probably didn't expected to get punched in the face, especially while the cameras were rolling.
☛ Read Next: Chris Brown And Frank Ocean Have A Fight Over A Parking Space
The news reporter was trying to speak with 43 year old Richard Wilder about the charges he faced of theft, deception and racketeering, after he was found guilty of depositing customers' tax refund cheques into his own account and keeping the money. What a cheeky bastard. Part of Wilder's sentence was that he would not be allowed to carry on running his business of selling used cars. Upon finding Wilder, the reporter soon realised that he was indeed still selling used cars, and even offering to complete customers' tax returns (what a joker!). After Wilder zoomed off when he realised what the reporter was up to, his Dad came out to great the investigative reporter with a rather intimidating grab to his jacket. The reporter told the old man to chill out and reminded him that he's being filmed. The jackpot shot came soon after as the reporter is seen holding open the door to the property that Wilder's Dad is entering before Wilder's Dad turns around and POW, whack's the dude right in the smacker.
☛ Watch Next: Swedish News Accidently Broadcasts 10 Minutes Of Hardcore Smut
I guess the reporter dude didn't really deserve to get whacked in the face but then again he was being a really annoying little shit. At the end of the day Wilder and his pops are the guys in the wrong here and no doubt they've just got themselves into a whole new lot of trouble after assaulting this dude and the video ending up on the internet.
☛ Check This Out Next: How To Win A Fight
Check it: