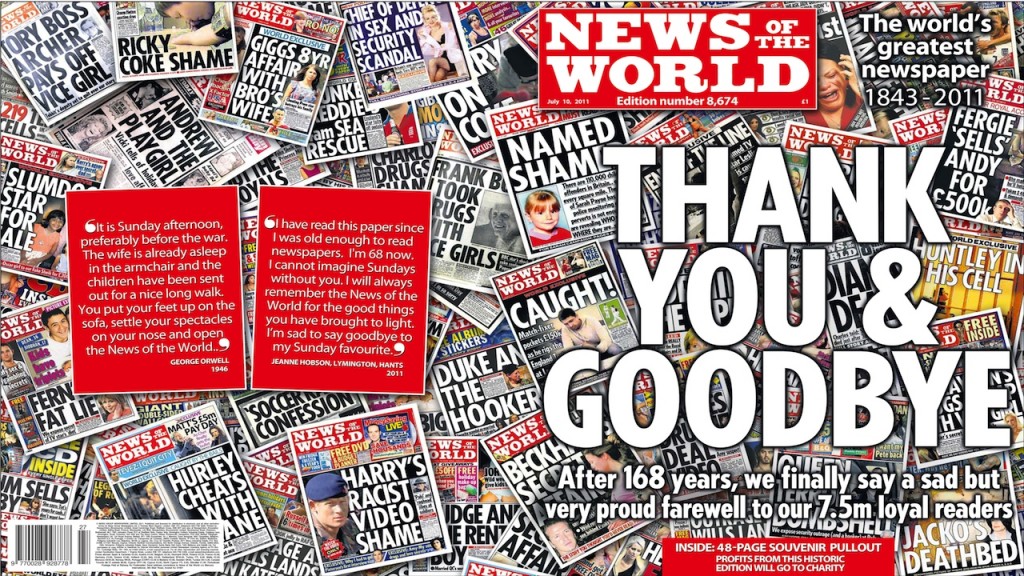 It's dominated our computer screens (even Sick Chirpse), our TVs and our newspapers for months, the scandal at the News of the World. And yesterday the Sunday paper printed its last ever edition (well as the News of the World at least).
I was never a fan of the News of the World, even before all this phone hacking business came about. Not for any reason other than I'm usually too hungover on a Sunday morning to drag my arse out of bed and buy a paper. But to mark the occasion I decided that I should buy the last edition, just to have a look and see what they would say about their dishonourable discharge from the newspaper world.
As expected they've tried to go out in style, quoting George Orwell, who unlike certain people at the News of the World was a reputable journalist. Almost sullies his memory for me. An editorial spans page 2, telling of all the memorable stories in the 168 year history of the paper. Of the historical landmarks it has covered and the corrupton it has uncovered as well as an apology for a few who "fell shamefully short" of the high standards of the News of the World and for losing their way.
The News of the World spanned six monarchs, reviewed Dickens' (another reputable journalist I might add) A Christmas Carol, was there at the death of the Victorian age and when the Titanic sunk. When men landed on the moon the News of the World wrote about it and as they said in the editorial, they became a British institution. Much like tea and scones or a Sunday roast.
However, there are many other things synonymous to Britain; like binge drinking and obesity, Cher Lloyd… So it's not always something to smile about.
Once the News of the World was a decent paper, I would even go so far as to say that it was good (probably not in my lifetime). It would have to have been to amass so many loyal readers throughout the years, right? But I think it's safe to say the News of the World devolved into nothing more than a redtop rag.
It claims to have been the "world's greatest newspaper 1843-2011", I doubt that the world's greatest newspaper would hack into phones of murder victims, celebrities or, well, anyone. Nor would they have someone as slimy as Rebekah Brooks as their editor.
Now it has printed its final words, and said its last goodbye. In my opinion the News of the World died long ago, the minute it decided to stop reporting and start bullshitting. This is just a belated funeral.