Getting made redundant or fired has probably gotta be one of the worst feelings out there, so it makes sense that people might wanna try and do whatever they can to make it a less painful experience, but I never thought that I would see someone taking in a clown to a meeting with them.
Images VIA
This is exactly what one New Zealand guy called Josh Thompson decided to do though when he knew that his time was up at his copy writing job. The human resources department encouraged him to take someone with him to soften the blow and so Josh hired a clown called Joe to come with him.
He spent the meeting making balloon animals, but had to be told to keep it down a couple of times as nobody could hear each other due to all the squeaking. Here's what Josh had to say about his decision: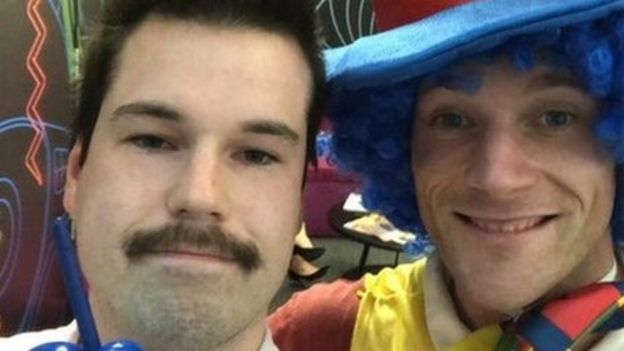 I was working – because I had a job back then – and I got an email and the email said: 'Hi Josh we'd like to meet with you to discuss some matters in regards to your role'.

Basically I sensed that this was going to be a redundancy … so I thought I might as well try to make the best out of this situation.

He nodded his head along when I received the bad news as if he was also receiving the bad news.

Professionalism at its finest, really.

If you've got family, friends, step mums, step dads, step kids, bring them by all means.

But if there's a clown available, especially Joe, I'd definitely recommend it.
I mean it does sound like a good idea really doesn't it? Not sure if it will take off massively, but I'll bear it in mind if I ever have to face that news. Hopefully won't be something I ever have to consider though.
For more of the same, check out the killer clown craze making a comeback. You gotta be careful of them.