As if there isn't enough horror in the news these days, a new species of venomous spider that looks completely terrifying has been discovered and what's more is that they can also live for decades. Probably won't be long until they take over the world considering they've been able to keep their existence secret for so long.
Images VIA 
Anyway, the spider is called the Pine Rockland Trapdoor Spider and was first discovered in the grounds of Miami Zoo by shocked members of staff back in 2012. However, the identity of the spider remained unknown until a second one was discovered at the zoo two years later.
Here's what Zoo conservation chief Frank Ridgley had to say about it all: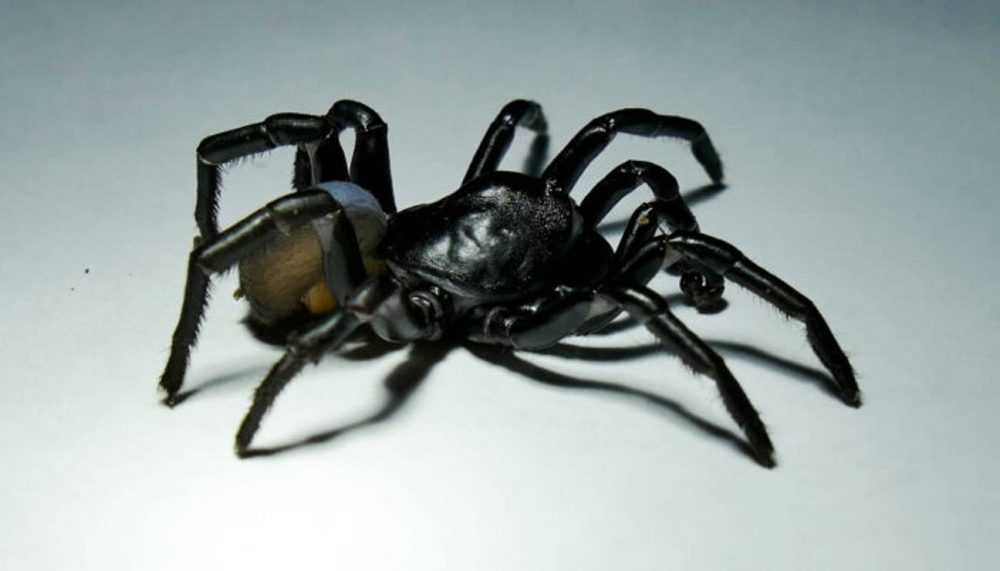 To me, it appears similar to a small shiny black tarantula. Similar species are ambush predators. They create a web burrow down into soft and sandy substrate with a hinged door at the surface.

They spend their entire lives in that same burrow, waiting for prey to come past their trapdoor, then they lunge out from their camouflaged lair to grab their prey.

Spiders like this often rely on their size and strength to subdue their prey, and the venom often acts to help breakdown and liquefy the insides of their prey.

Who doesn't want to be part of discovering something like a new species? As a scientist, that is a dream come true.

The other side of this discovery is that I am intimately familiar with the unique and globally critically-endangered habitat it comes from. So I immediately thought that it is likely already imperilled.

Just 1.5% of the spider's pine rockland habitat survives beyond the Everglades National Park.

These spiders tend to be very poor dispersers with very small ranges, and so it is likely that the spider is limited to this small area of threatened habitat and subsequently could be threatened itself.
OK so I guess they won't be taking over the world if their habitat is under threat and they spend most of their lives waiting in their burrows for prey to pass by so they can attack them, but even so that little bastard looks absolutely terrifying and I'm not glad that these guys exist.
Thankfully it seems like I'll never cross paths with them, but it's just another awful thing about the state of Florida. Never ever going back I don't think.
For more of the same, check out this bizarre mutant spider that was discovered down in Australia a few years ago. What is wrong with nature?