A year or so back, we ran a photo set on the remaining members of the Ku Klux Klan, and they looked to have pretty much given up on life as their numbers dwindled and ex-members-turned-non-racists moved on without them.
Well fast forward to 2014 and the Ku Klax Klan has completely rebranded itself as 'the new Klan', and guess what? They're not racist anymore.
Yep, the new KKK, also known as the Rocky Mountain Knights, will open their doors to black people, Hispanics, Jews, gay people, etc, for the first time ever. Members will still have to wear white robes and take part in weird rituals, though.
But what's a new KKK member to do if racism is no longer a part of the ethos? Well, the KKK is now focused on preventing the formation of the 'new world order' or a 'one world government'. Oh God, they're not going to start banging on about 9/11 and the Illuminati are they? Only time will tell, but hey – it's better than hating on people who don't have white skin, I guess.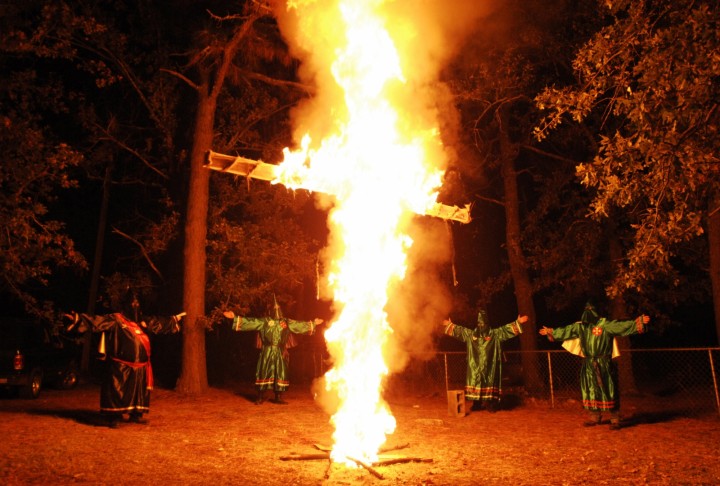 Founder John Abarr, who has organised a peace summit with religious groups and the National Association for the Advancement of Coloured People (isn't 'coloured' politically incorrect?) next summer, says:
The KKK is for a strong America. White supremacy is the old Klan. This is the new Klan.
Does that mean the mentality of the old KKK heads has completely ceased to exist? Unfortunately not. Bradley Jenkins, Imperial Wizard of the old KKK, says:
(Abarr's) going against everything the bylaws of the constitution of the KKK say. He's trying to hide behind the KKK to further his political career.
Whatever dude – enjoy being one of the 3 old school KKK members left.  Here are some dark, haunting images of the KKK back in its heyday.