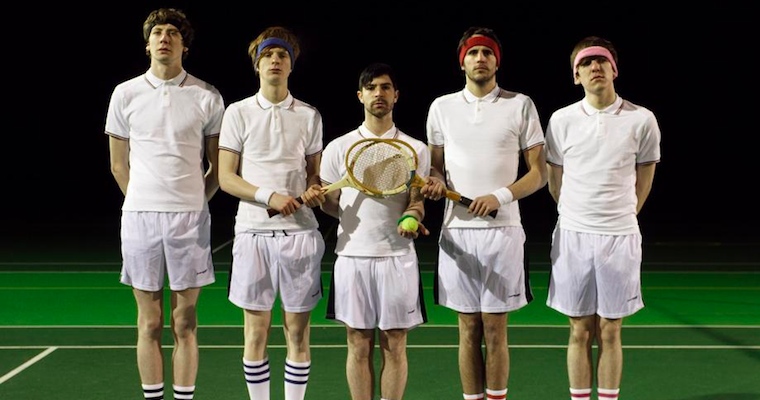 When I think back to 2008, I think of endless summers spent in post-A-Level hysteria, doing that whole 'finding yourself' thing round North America, and returning to endure an Olympic Games I couldn't yet give a shit about. 2008 was also an incredible year for music, a year in which we were first introduced to the now ubiquitous concept of vowel omission courtesy of MGMT, learned how much we gave a f**k about an Oxford Comma care of Vampire Weekend, and a previously unknown four-piece (now five) from the home counties finally made maths cool (sorry Kevin G, you failed).
[yframe url='http://www.youtube.com/watch?v=9KY8WU0oa3I']
The first time I heard Foals' Antidotes, I was in my best friend's car about a week after he'd passed his test, his shitty Fiat soundsystem breaking its little heart to belt out hit after hit after hit, soundtracking our journey to a now long-lost peripheral-friend's eighteenth. The night in question ended with the birthday girl, in full view of her friends and family, sucking on a cream-covered dildo held at crotch height by a gyrating Chippendale — but not even this climax could eclipse Tron.
Antidotes is the album that first introduced Max and Mini Mainstream to the joys of time signatures and singularity, crafted the perfect floor-filler out of a dialogue between split personalities and proved it was possible to write an unpretentious ode to Heathrow. Now, five years later, Foals are releasing their third album — cause for celebration, yeah? Well, no.
It's always terrifying to hear that one of your favourite bands has decided to 'go in a different direction'… Either this can end extremely well, like the time Lightspeed Champion discovered he could sing instead of contract laryngitis on a daily basis with Test Icicles, or, as is more often the case, you're left with Resistance by Muse. For those – unlike us media types – who haven't endured the album yet, the definitive proof of its awfulness comes with the opening lyrics, 'sticks and stones break my bones' — if you don't see what's wrong with this then this album is definitely for you…
☛ Listen To This: Muse Release Stupid Song To Celebrate The 2012 Olympics
But what makes this new Foals album such a hideous monstrosity?
On Holy Fire, Foals' hallmark ponderous lyrics and subtle melodies are replaced by soaring overtures and nondescript wailing — but on occasion you can hear flashes of the band that came before, as if Yannis keeps walking in on himself watching BDSM smut – in theory there's nothing wrong with it, but he' s still a bit disgusted with himself. Each track seems to strike an uneasy agreement between the band's long-enduring math-pop proposition, while attempting to carve a treacherous track through stadium-rock territory. At times it sounded so blandly orchestrated  I thought I was listening to cocking Biffy Clyro.
In my opinion (go get your own) the album's shit. But seeing as we're Sick Chirpse and we're here to help, here's an alternative to blow your load over.
Beneath The Beach (previously Beneath The Beach, The Pavement) are to Foals what Aphex Twin are to Venetian Snares — or in other, less borrowed-from-Peep Show terms, better. Where Foals wrote pseudo-cryptic lyrics about whatever philosophical oddity was apt that week, Beneath sample the sayings at the source, working sumptuous sound bites around their luscious 5/4s, words of wisdom from Patrick Bateman punctuating their staccato style.
To summarise, if you were waiting for Foals to do something different, then Holy Fire will definitely deliver (though really all they've done is reskinned a turd) — if I were you, I'd czech out Beneath's special Post-Dance-Math-Step blend below. At least then you'll get something fresh, exciting and lacking in unintended pretension.
☛ Read This Next: I Went To See A Clock Opera Gig On A Boat And It Was Shit 
[soundcloud url="http://api.soundcloud.com/users/1542181″ params="" width=" 100%" height="540″ iframe="true" /]
☛ Read This Next: Introducing The Artistic Team Behind Foals – Dave Ma & Tinhead 
Do we speak the gospel on Holy Fire, or are we blasphemous devils? Tell us what you think below.
Follow Jay Papsby @jjpapp and Beneath The Beach @beneaththebeach