It's probably kind of surprising that it's taken Banksy so long to make an appearance and a comment on the Coronavirus situation, but he showed up last night after some more of his artwork was discovered on the wall of Southampton general hospital.
Images VIA 
The new piece is a largely monochrome painting measuring one square metre, featuring a child having thrown his Batman and Spiderman toys away in the bin and now solely focussing on a toy of an NHS nurse that has its arms spread out in the Superman pose. She's wearing a facemask and an apron with the Red Cross symbol on it, which is the only piece of colour in the painting.
The implication is plain to see. Here's what Paula Head, CEO of the University Hospital Southampton NHS Foundation Trust said: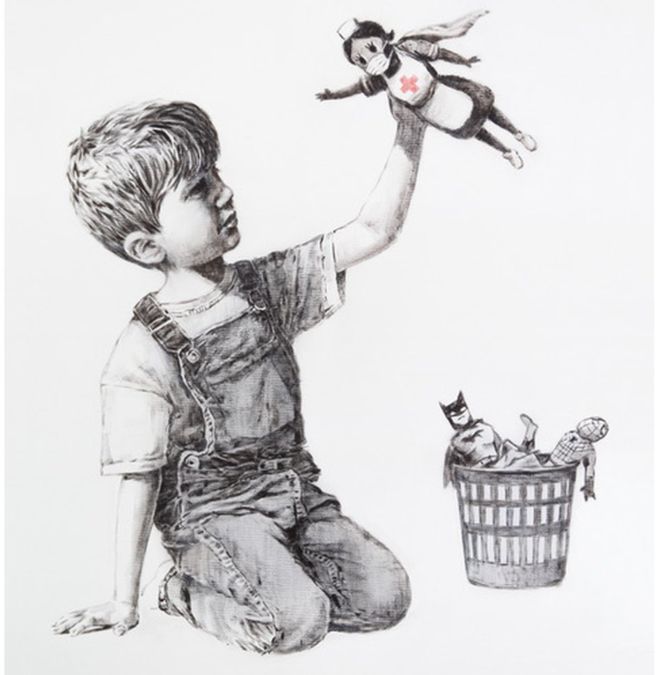 Our hospital family has been directly impacted with the tragic loss of much loved and respected members of staff and friends.

The fact that Banksy has chosen us to recognise the outstanding contribution everyone in and with the NHS is making, in unprecedented times, is a huge honour.

It will be really valued by everyone in the hospital, as people get a moment in their busy lives to pause, reflect and appreciate this piece of art.

It will no doubt also be a massive boost to morale for everyone who works and is cared for at our hospital.
I mean I'm not sure if that's actually how they will react? I guess getting a Banksy in your hospital is kinda cool but is it going to boost morale and make create the kind of buzz that Paula here seems to be describing in the face of relentless deaths and Coronavirus admissions every day? I'm not so sure but I guess it's nice for her to think positively like that, sure.
And thanks to Banksy for getting involved as well, but it would probably make more sense for him to auction off some of his artwork and donate the money to the NHS right? Although that's not to say the NHS should be funded by charity either, but that's a whole different kettle of fish.
For more of the same, check out this woman claiming she managed to film Banksy at work. Could it be true?