Netflix is wrapping up production on 'Blonde'; the Marilyn Monroe biopic starring Ana de Armas and directed by Andrew Dominik. Bizarrely though, Netflix have also pulled the release for the movie, and not offered any explanation why.
Featured Image VIA
Here's how it's been reported by ScreenRant:
Ana de Armas' Marilyn Monroe biopic, Blonde, has been delayed to 2022. …Though the supporting cast impresses with names like Adrien Brody and Julianne Moore, Oscars chatter for Blonde has largely revolved around director Andrew Dominik, whose last two films Killing Them Softly and The Assassination of Jesse James by the Coward Robert Ford received wide acclaim. Dominik is also noted for his selectivity, making only four narrative features over the last two decades. …
Variety reports that Blonde's release date has been pushed back from this fall to 2022, with no reason given for the delay. Though no exact date has been set, it's safe to assume Netflix will position it for next year's awards season in order to properly campaign De Armas and Dominik for Best Actress and Best Director at the 2022 Oscars.
So the assumption is that 'Blonde' has been delayed because Netflix think either de Armas or Dominik can win an Oscar next year. Which is pretty bold of them if true.
However there are other reasons why executives cancel or postpone movie releases, and it turns out the true reason might be weirder than we think…
According to industry insiders, Netflix was "absolutely horrified" by the sexually graphic final cut of BLONDE submitted by director Andrew Dominik. They want a new version, Dominik doesn't — explains the delayed release of the film. pic.twitter.com/RpKfhBxk39

— Ana de Armas Updates (@ArmasUpdates) August 3, 2021
I've read the script and theres a book too…I don't believe Netflix didnt know what they were getting into. The script alone was fucking bizarre. A Fetus literally talking/thinking in it…what did they expect?Theres gotta be more to it we dont know. The book author Praised it too pic.twitter.com/KulJd693Gz

— wouldst thou like to live deliciously? (@ElBlackPhillipp) August 3, 2021
oh my… pic.twitter.com/wDV72IJMa4

— alex (@dragonsbIood) August 3, 2021
A 'sexually graphic' movie about one of the biggest sex symbols in the history of film? No way! I mean imagine showing graphic sex scenes in a movie about a free-spirited icon of femininity and independence who routinely (and consensually) shagged A-listers and world leaders. A woman who posed in Playboy and was the first to prove that you can get naked on camera and not have it ruin your career. No wonder Netflix were 'absolutely horrified'!
View this post on Instagram
Yeah OK the rape scene and scene involving "bloody menstrual cunnilingus" sound a bit daunting, but I'm sure Netflix have hosted worse on their platform. Apparently they were expecting a basic Oscar biopic but instead got an envelope-pushing arthouse film. Wouldn't Netflix have read the script before filming and seen this coming anyway?
We'll have to wait and see whether Dominik is happy to reshoot a large part of the movie or whether Netflix chill out and release the film as the director intended it. Either way – can't wait to see Ana de Armas knock it out of the park. They've got the look nailed down, that's for sure: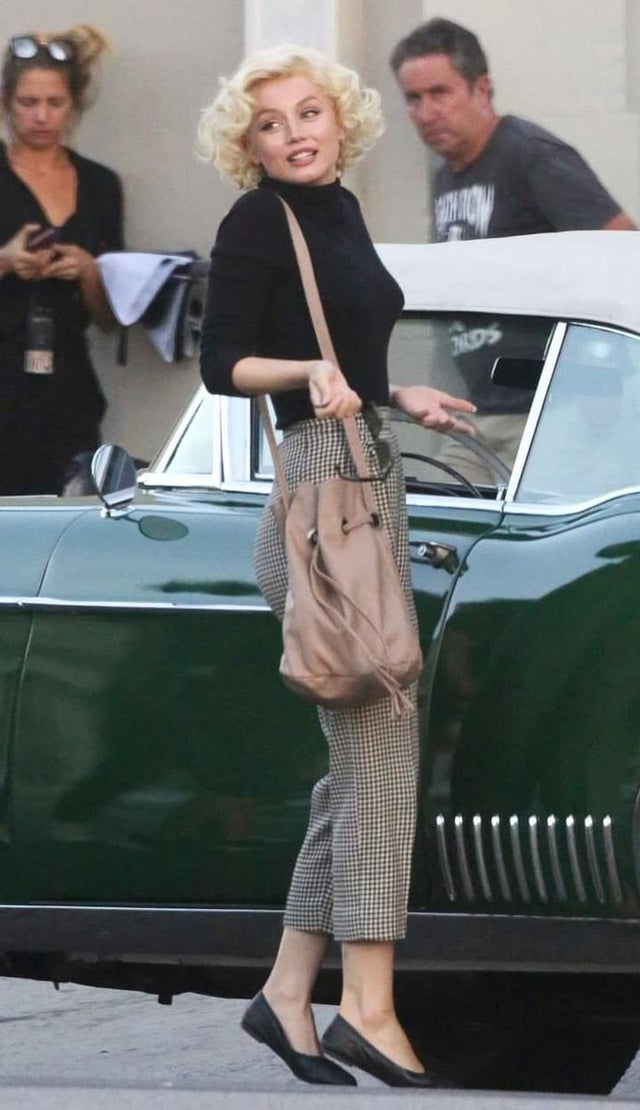 To meet the Scottish model who's so obsessed with Marilyn Monroe she moved into her house and dresses up like her everyday, click HERE. Just a bit weird.