In a bizarre turn of events in an already fairly bizarre story, the interpreter at the Nelson Mandela memorial service who signed a load of complete bullshit during it has been tracked down, and has explained that he was suffering from hallucinations and hearing voices during the service, and it was this which caused him to mess up all the sign language gestures.
The guy – who's name is Thamsanqa Janitie – also goes on to say that he is a qualified signer and backs up his claims that he was suffering from hallucinations during the service by explaining that he's currently being treated for schizophrenia. So he was clearly the best option out of all the qualified signers in the country/world for one of the biggest jobs in the history of the profession. Clearly.
A South African spokeswoman named Hendrietta Bogopane-Zulu has said that 'a mistake was made' in hiring Thamsanqa and they have tried to investigate it by contacting the company responsible for his hiring but they seem to have conveniently vanished into thin air. Great.
Thamsanqa did a fairly in depth interview with the South African Star where he explained what happened during the service: 'There was nothing I could do. I was alone in a very dangerous situation. I tried to control myself and not show the world what was going on. I am very sorry. It's the situation I found myself in.Life is unfair. This illness is unfair. Anyone who doesn't understand this illness will think that I'm just making this up.'
Asked by The Associated Press how often he had become violent in the past, he said "a lot," but declined to provide further details.
☛ More Mentally Ill People: Man Set To Wed My Little Pony Character Writes Long Letter To Deviant Artist Asking Him To Stop Drawing Raunchy Pictures Of My Little Pony Characters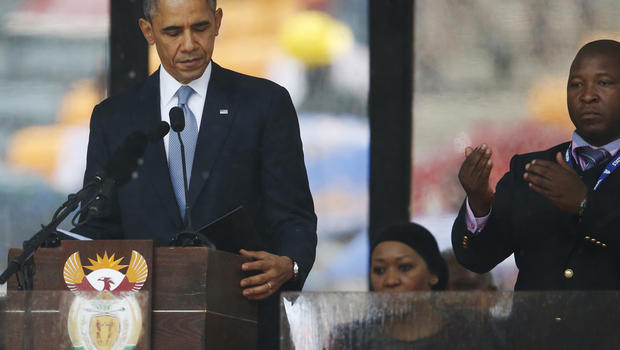 However, in a radio interview for Talk 702 Radio, he still strangely insisted that he was proud of his performance at the memorial service, which seems like a completely retarded thing to say: 'Absolutely. What I've been doing, I think I've been a champion of sign language. I've interpreted in many big events. I've interpreted in MaSisulu's [Albertina Sisulu's] funeral. I interpreted at the Brics conference.'
Obviously this is all well and good but screwing up the biggest ever signed event (possibly?) isn't exactly being a champion of sign language, it's just being a colossal fuckup/douchebag, whatever the reasons. Even if this is real (he sounds heartfelt but I can't really tell) the fact is that whoever hired him – or Thamsanqa himself – should have realised/revealed that he was a schizophrenic and that something like this could happen and gain a lot of negative press.
Basically, somebody fucked up on this one and I've really got to put the blame on Thamsanqa. Even though it's obviously a great honour to perform at an event like Nelson Mandela's memorial service, he really should have made himself exempt from selection due to his mental illness. But instead he decided to go for it and embarrassed himself and his nation in front of the world. Nice one dude.
To make matters worse, this isn't the first time that deaf people have complained about his signing at events such as these. Although to be fair, he states that nobody has criticised his signing before this and it should have been brought up before if people had an issue with it. Even though Tahmsanqa is ultimately to blame for putting himself in this position, someone with some sense in the African government should have prevented him from being there in the first place. What a joke.
☛ More Sign Language: Kendrick Lamar Sign Language Interpreter Is Awesome