Nando's is one of the staples of eating out in Britain, be it on a first date or a night out with the lads after a football match and it looks like its getting even better with the addition of a new burger: The Sunset Burger.
The Sunset Burger consists of two chicken thighs (bones removed of course), topped with melted cheese, spinach and smokey red pepper jam, all sitting in between a Bolo do Caco bun. That's a bit like a ciabatta in case you didn't know.
Anyway, it looks totally delicious as you can see by this kid pictured eating one: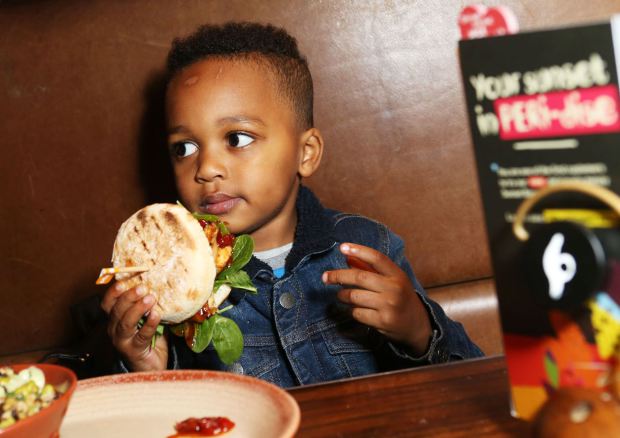 The only possible problem with it is that it gets really messy as the jam oozes out of the burger all over your hands and face, so maybe don't go there on a first date unless you're supremely confident in your own ability to hook up with jam all over your face. I know there are people out there like that.
Nando's is also adding a couple of other new items to its menu. There's the option to add chicken thighs or hummus to any salad (who orders a salad at Nando's though?) and you can also sip on a Spier Chenin Blanc wine if that takes your fancy.
The new menu items are rolling in next Tuesday, but did you know that there's also a Nando's breakfast menu as well? Unfortunately you can only get that at one Nando's in the whole of the UK, but damn does it look good.