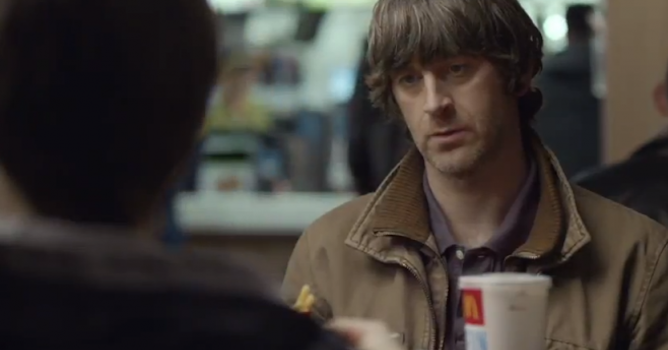 Both Adeline Ferreira (and her boyfriend) and Calum Spencer sent tips for this one over so I figured it must be worth talking about even though I had never seen the original advert that this remake refers to because I don't have a TV. Even if I did have a TV I would just fast forward the adverts or change over to the music channels when they were on so I doubt I would have seen it anyway. I kinda imagine that everyone does that anyway, but I guess not if people actually know what this advert is.
If you haven't seen it the advert follows the premise that some young kid isn't happy when his mom invites her boyfriend to move in and every time the boyfriend tries to do something nice for the kid he's really standoffish and says 'nah, you're alright' to him. Obviously by the end of the advert the two are reconciled thanks to McDonald's. Real heartwarming. If you haven't seen it then check it out below. You probably need to have seen it to understand the parody video, because the first time I watched it without having seen this I had no clue what was going on.
[yframe url='http://www.youtube.com/watch?v=Z4iTqmBvPpA']
To be fair, the second and third time I watched the remake I didn't really know what was going on either, but I knew that it was really funny this time at least and not just completely random and bizarre. I would try and describe it to you but I'm not sure if I even can because it's so messed up and weird. You're probably best to just dive right in with it. I
t's so freaking weird but I love it, especially at the end where they end up at the equivalent of McDonald's in their screwed up little world. To be honest I'm surprised it hasn't gone completely viral yet, but hopefully we can help make that happen.
☛ More McDonald's:
Man Completely Loses It After McDonald's Worker Makes His Big Mac Wrong 
Creepiest McDonald's Advert Ever 
McDonald's Cheeseburger Stays Exactly The Same For A Year  
[yframe url='http://www.youtube.com/watch?v=6DpqiArsJG8′]