The eBay sale in this story is proof that you can pretty much flog anything online if you give it the right spin.
Images VIA
The seller is from Witham in Essex and he recently put up his 'Absolutely Dreadful Guitar' for sale on eBay. Judging by the description, the guitar is an absolutely piece of dogshit, but thanks to the comedic value of his description, the sale has gone viral and has already racked up 23 bids. Not bad for something described as "the worst guitar I have ever owned":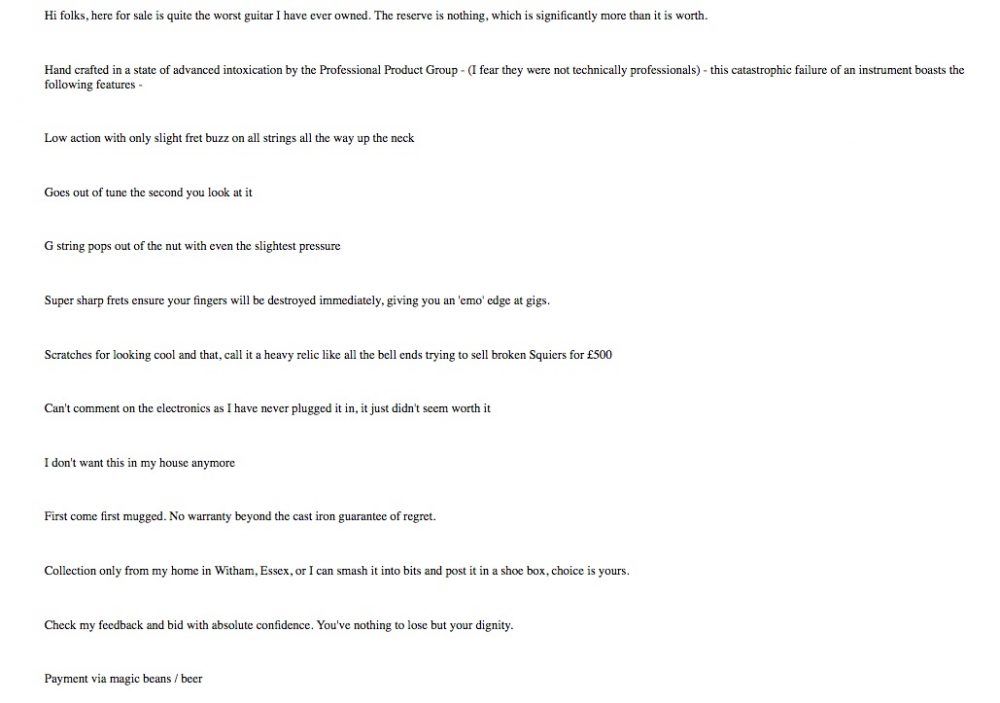 Hi folks, here for sale is quite the worst guitar I have ever owned. The reserve is nothing, which is significantly more than it is worth.

Hand crafted in a state of advanced intoxication by the Professional Product Group – (I fear they were not technically professionals) – this catastrophic failure of an instrument boasts the following features –

Low action with only slight fret buzz on all strings all the way up the neck

Goes out of tune the second you look at it

G string pops out of the nut with even the slightest pressure

Super sharp frets ensure your fingers will be destroyed immediately, giving you an 'emo' edge at gigs.

Scratches for looking cool and that, call it a heavy relic like all the bell ends trying to sell broken Squiers for £500

Can't comment on the electronics as I have never plugged it in, it just didn't seem worth it

I don't want this in my house anymore

First come first mugged. No warranty beyond the cast iron guarantee of regret.

Collection only from my home in Witham, Essex, or I can smash it into bits and post it in a shoe box, choice is yours.

Check my feedback and bid with absolute confidence. You've nothing to lose but your dignity.

Payment via magic beans / beer
Brilliant. My favourite bit has to be "goes out of tune the second you look at it". You can really feel the pent up hatred he has developed over the years for this instrument.
Although it was clearly initially posted as a joke, with the help of stories like this, maybe he'll be able to flog this piece of junk for a decent bid. Here's hoping.
For more ridiculous eBay sales, click HERE.