Now that Halloween's over and we're well into November, the Jack O'Lanterns are steadily being replaced with Christmas lights as we get into the festive time of year.
Images VIA
With this in mind, Tesco have decided to enhance our Christmas experience even further by launching a mulled wine scented loo roll. So this year, even your toilet breaks can be festive.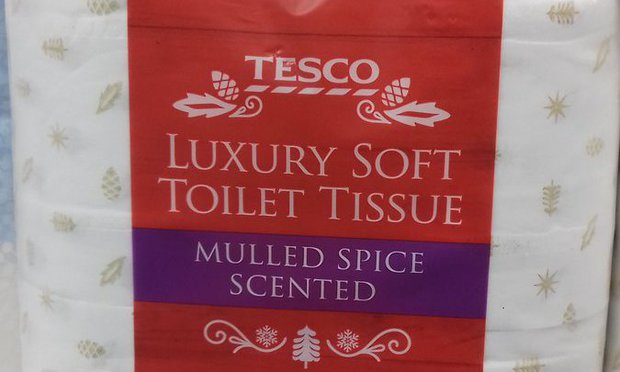 The 'luxury soft toilet tissue' is available from the supermarket for £2 and includes citrol, eugenol, cinnamol, citronella and limonene. In a statement, Tesco said:
Our mulled spice scented toilet tissue has a mulled spice fragrance core and a decorated paper for extra indulgence everyday.
Although I have been speaking favourably of the specially scented bog roll, the internet does not seem to agree:
When you ask for toilet rolls , and say only Andrex, who would come back with Tesco own brand, that's mulled wine scented? Jeez

— Foxy Jeepster (@foxyjeepster) November 5, 2016
Tesco has mulled wine Christmas scented toilet paper Why? Who thinks of these things? Just what I always wanted loo roll + a side of thrush

— Robin Son (@geekuneek) November 4, 2016
do not recommend @Tesco mulled wine scented toilet paper, feels like wiping your ass with last nights hangover 🙁

— bel (@belprimrose) November 5, 2016
Me an my mom saw mulled wine scented toilet roll in tesco yesterday… WHY?????

— Grace Cunningham (@_GraceC) October 23, 2016
https://twitter.com/kitkatthemidget/status/790900157726486528?ref_src=twsrc%5Etfw
Seems like this product is nearly as unpopular as their Prosecco flavoured crisps. They were rank.