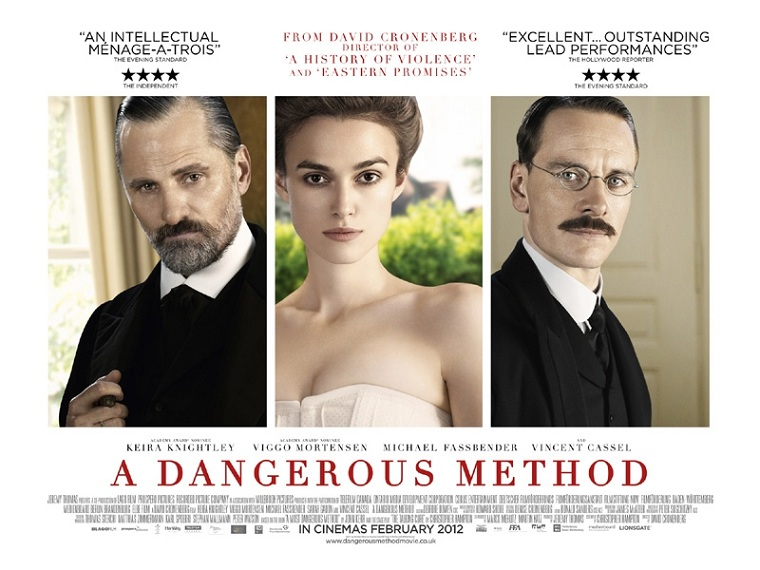 If your primary incentive is to wallow in the 'Kiera Knightly sex scenes,' prepare to console yourself for disappointment, and for having as much sexual taste as the Barack Obama dildo. But if you want a taste of history in psychology and some good honest acting, rent A Dangerous Method out for some brownie points from your old wench.
Viggo Mortensen, (or Aragorn for the nerds) plays Sigmund 'you want to fvck your mum' Freud, Michael Fassbender as Carl Jung, and of course Kiera 'just nipples' Knightly as Sabina Spielrein. These are the protagonists that help the backbone Director David Cronenburg produce this exquisite drama. Yes I can use that term here. It's not a pretentious, perfectly pronounced ideology of the human form like an Oscar Wilde book. It is a bloody good watch to put it simply (Thank you Isohunt).
I won't waste time praising the acting. It doesn't need it. It's pretty simple in its entirety. Knightly is Fassbender's new patient, and test subject for Freud's theory of Psycho-analysis. Her problem is solved, and not surprisingly, also demonstrates Freud's theory perfectly, which is where the spanking comes in. Unfortunately, Jung (Fassbender) is only human, and finds solace with another (horny) patient and fellow psychoanalyst; Otto Gross (Vincent Cassel). Who assures him that it would be best – for the
greater good of course – to act out these urges.
At this stage if you're thinking that the film is really just an exhibit of how pent up and horny everyone was before the internet, you would pretty much be right. So anyway, being the gentleman that Jung is, controlled spanking and humiliation ensues. At least the 'sex scenes' provide us with some decent wank bank material.
And that's pretty much it – A film about horniness, wrapped up to be a 'proper' period drama, with a downer at the end. If you want a refund I will gladly send you a gift certificate for three brownie points and a Barack Obama dildo. It came about 6 weeks ago in the UK so you might still be able to catch it at some cinemas. If not just rent it in June and watch those brownie points stack up. Here's the trailer:
[yframe url='http://www.youtube.com/watch?v=664eq7BXQcM']