I haven't ever given much thought to how annoying and difficult it must be to dress your children for things like nativity plays and the like and clearly it's a bit more difficult then you might think, as one woman ended up buying her son a sex toy by accident when she tried to get him dressed up as a shepherd.
Images VIA 
46 year old Helen Cox picked up a £16.99 shepherds fancy dress outfit on eBay for her five year old son Alfie when an inflatable sheep sex toy popped up in the suggested items section. Not reading the small print, Helen gleefully added it to her basket only to be absolutely devastated when it arrived and she discovered its true purpose.
Although she managed to realise her error before Alfie ended up taking it to school, Helen still has a bit of a problem as Alfie has fallen in love with it and loves putting stuff in the hole in its bottom. What a predicament: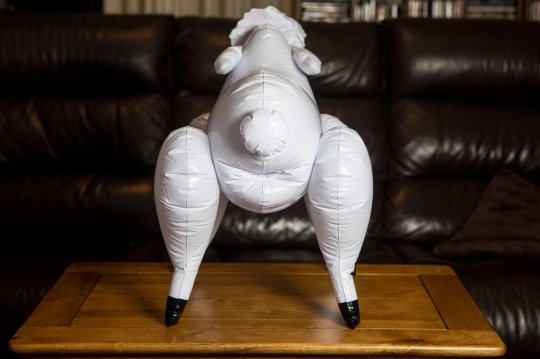 He's probably in his room right now stuffing Lego in the hole.

I just can't believe it. I don't know whether to laugh or cry! How am I going to explain this to his teachers?
Good question there Helen, although you might wanna worry about him stuffing Lego up the sheep's butt a bit more. Just saying.
In case anyone else is worried about this happening to them though, you needn't – Amazon have announced that they've stopped selling the inflatable sheep all together because of these dummies. Way to spoil it for all the Welsh people out there hey?
For more sheep, check out this weird half human/half sheep. Nice.