Brutal footage from Moscow on Saturday showed a taxi driver plough his vehicle through a crowd of World Cup fans, then do a runner as dozens of people gave chase.
Featured Image VIA
Watch the video below:
And the driver running for his life:
Chyngyz Anarbek Uulu, 28, has now explained that he 'passed out' moments before his taxi mounted the curb.
Eight people were hurt – including two Mexicans, two Russians, a Ukrainian and two Azerbaijani citizens. One person remains in critical condition in hospital.
When asked how long he had been behind the wheel, Chyngyz said:
To be honest, about 20 hours.
He told police officers:
I wanted to stop, I wanted to let one man pass. I wanted to stop, it was just one second and I pressed the accelerator instead. 'And I thought I was pushing the brakes, I don't know, and I passed out…. And then I saw people being pushed… and then I ran away. 'I was afraid, they would have killed me, so many people there.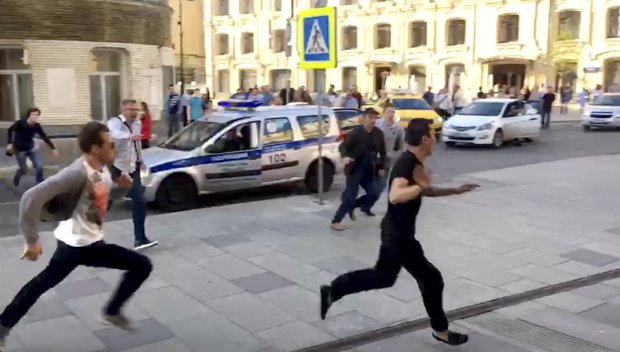 What I can't figure out is how he made it out of the situation alive. Running over a bunch of people in your taxi on a busy street is just the kind of scenario that Russian street justice thrives on. Somehow Chyngyz got away and lived to tell the tale. I mean he got arrested and will probably lose his license and wind up in prison for it but that's neither here nor there.
Very fortunate that there were no deaths and we wish the injured victims a speedy recovery.
To read about the taxi driver who took MI5 to court because 'they wouldn't stop asking him to become a spy', click HERE.