I've mentioned it a whole bunch in these pages in the run up to Christmas, but all the supermarkets out there really have gone into overdrive this Christmas regarding all the different kinds of crazy festive themed food that's out there and available to buy and we just might be seeing the weirdest one with this offering from Morrisons.
Desperately thinking how they can get in the Christmas mood, Morrisons have decided that the most appropriate food product they can offer is this bizarre pasty that actually has three courses in it. So you get a pâté starter, a main of turkey and stuffing and finally a Christmas pudding. Not really sure how any of that works – does Christmas pudding really go with pastry? Doesn't each section bleed into the rest? – but it'll only set you back £2.50 so you might as well suck it and see. Available from the pie counter at Morrisons until Christmas.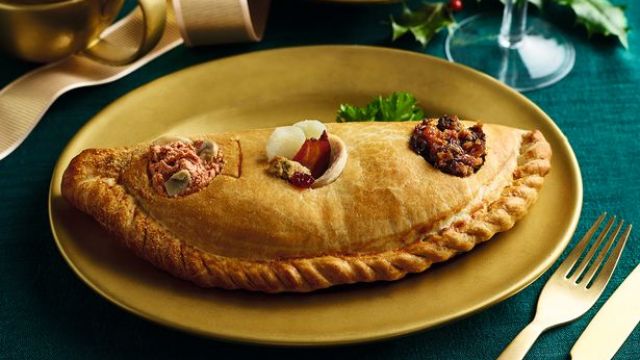 Here's what pastries buyer Philippa Shaw said about it:
This is the perfect grab and go Christmas dinner… and without any of the washing up.
Yeah that's me convinced sure. In case you're scared that you might eat it the wrong way as well, apparently there's an arrow on the packaging which shows you which way to start. They really have thought of everything it seems.
For more of the same, check out this deep fried Christmas dinner. Yum.