What's better than eating a Christmas dinner? Eating a deep fried Christmas dinner of course.
Images VIA 
Keeping up the tradition of deep frying literally anything you can think of that seems pretty prevalent these days, 35 year old Andy Marshall is bringing back the idea again for another year after its success last year at Marshall's Fish Bar in Collumpton, Devon. The meal consists of a turkey leg, sprouts, carrots, pigs-in-blankets, stuffing, a gravy bomb and a mince pie for dessert.
All of these are of course battered – even the mince pie – and comes in at around 1100 calories at a cost of £10. Andy had the following to say about the meal: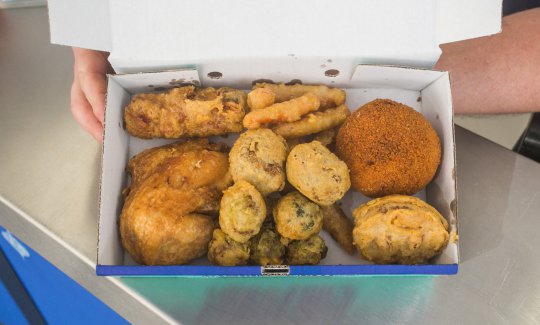 After some thought, we decided to launch the Chipmas dinner again because it seemed to work so well last year.

The reason I came up with the idea is because my staff says I am a Scrooge when it comes to Christmas so I thought why not come up with something different?

I started with just the battered Brussels sprouts, then the pigs in blankets, and then I thought why not serve an entire Christmas dinner?

The battered Christmas dinner will start with a fried chicken leg, sprouts, carrots and pigs in blankets.

We will then take an ice cube of gravy, surround it in mash potato, cover it in breadcrumbs and then fry it.

We will also either deep fry the stuffing or cover it in batter and fry it.

And for dessert, we will either try battered Christmas pudding or mince pies.
I mean I don't even really think that sounds that nice but I suppose people are buying it and they're offering it again so some people out there must be enjoying it. I guess deep frying sprouts might make them taste better but that's the only advantage of this meal I can really identify. Hope you enjoy it if you decide to pick it up though.
For more deep frying, check out this full English breakfast served in a Yorkshire pudding. Nicely.