Another day, another awesome looking, innovative product from what's fast becoming my favourite supermarket Morrisons. Gotta love those guys.
Images VIA
This time, we've got a new style of cheese from them called the Reaper Chili Cheddar which is made using the hottest chili in the world, The Carolina Reaper. For those of you that don't know, the Carolina Reaper has a heat intensity rating of 1,569,300 Scoville Heat Units (SHU), whereas your regular jalapeno has one of about 5000. You get the picture.
The cheese is so dangerous that it comes with a warning signal that says the following: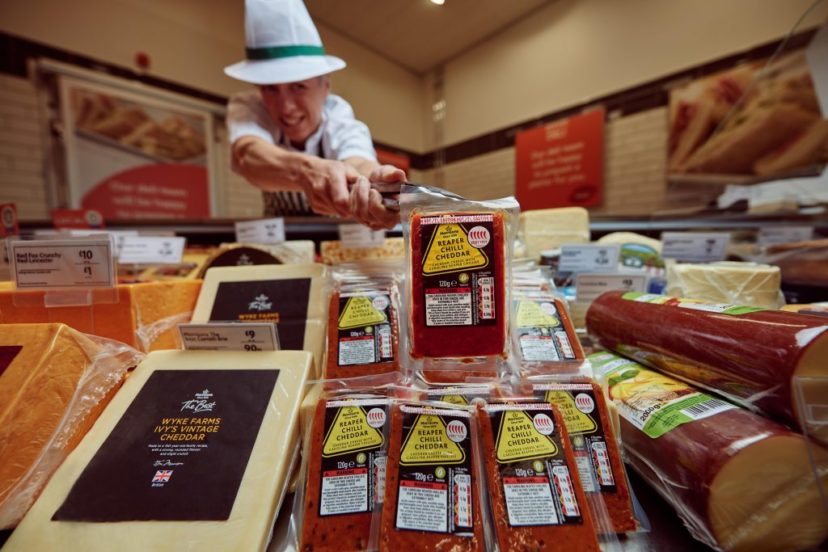 The Carolina Reaper chillies used in this cheese are extremely hot! Avoid contact with eyes, sensitive areas and thoroughly wash hands after handling. Keep away from children and pets.
Anyway, if you think you've got what it takes to eat the cheese, then it'll set you back just £1.50 for a 120g block. That will probably last you a while as well as I doubt you'll be putting loads of slices on your burgers or cheese on toast or whatever. Gotta check it out, although I'll be honest whenever I've been eating this kind of spicy cheese I've always been a bit disappointed – just didn't really taste that good. Hopefully this one can change my mind.
For more cheese, check out this study that found that the chemicals in mac and cheese are toxic. Just still to the Reaper Chili Cheddar.