It's kind of surprising how much stuff that's sold at budget supermarkets is actually some of the best in the world – we're talking alcohol, meat, the whole shebang – and once again this has been proven by the one of the cheapest ribeye steaks you can buy on the planet from Morrisons.
Images VIA 
The supermarket has recently revealed that their Aberdeenshire raised steaks have picked up gold medals at the World Steak Challenge, beating off the competition of steaks from as far away as Australia and Argentina, which are also traditionally where you expect some of the best beef in the world to come from. The Best British 21 Day Matured Shorthorn Ribeye Steak and the Fillet Steak both managed to pick up the gold at the event, with Joe Mannion – the Head of Meat at Morrisons saying the following: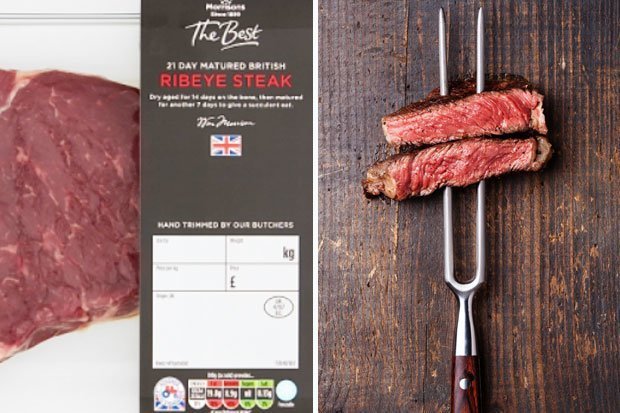 This steak comes from the Shorthorn breed which is renowned for its texture and flavour.

Morrisons has helped to revive this British breed over recent years working with farmers to produce these award-winning steaks.
As the only UK supermarket to work directly with livestock farmers, we can select the very best cattle.

We then age the beef for 21 days to make it even more tender and full of flavour.
I mean it does sound like they're really revolutionising something there doesn't it? And I suppose that's pretty good news with Brexit (fast?) approaching and a worry about whether we'll be able to import as much food as we currently do into the country following its execution. Let's hope they can keep up the good work.
As a slight caveat though, I've gotta note that I'm a bit sceptical about events like the World Steak Challenge, and they kinda make me think that anyone could probably just buy the result which is why all these supermarkets have such great awards for their self made alcohol and meat. Surely that's the only explanation and they can't be beating out competition from steaks that you would actually think were the number one seeds? Or maybe they just aren't even bothering to show up to compete? There's gotta be something else going on here.
For more of the same, check out one of the world's best gins available to buy in Aldi for a tenner. No joking.