British-Egyptian model Merhan Keller says she has become public enemy #1 in Egypt after Mo Salah Tweeted his support for the man who sexually harassed her. 
Featured Image VIA
Salah wasn't condoning Egypt teammate Amr Warda's behaviour – quite the opposite – but he did suggest Warda be given a second chance and be recalled to the national squad for the Africa Cup of Nations.
Warda had been sent home from the tournament after admitting that he had sent vile messages of a sexual nature to Ms Keller, 28, over social media.
Here's what Salah Tweeted: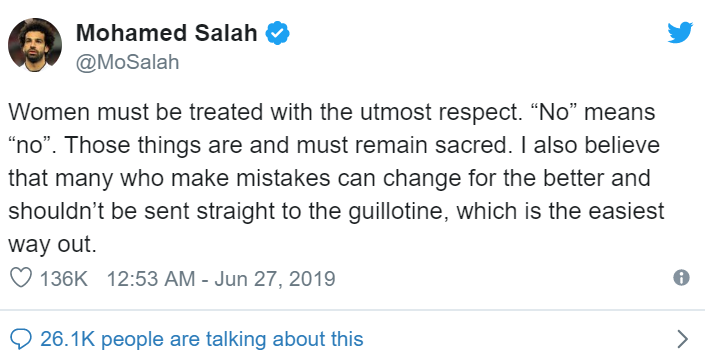 Following those Tweets and further messages of support from Egyptian supporters, Warda was recalled to the squad.
Merhan says she has since been receiving abuse online non-stop, literally in the "thousands":
This person (Salah) is God in Egypt. Literally. They don't deal with him like a football player. He is God and he can do no wrong.

This makes me in jeopardy. I cannot go to my country right now if I want to visit my family.

People will attack me in the streets. You know how football fans are – ours are 100 times worse.
In fact Merhan is now taking legal action against Warda for the messages he sent her.
What is shocking for me in the Mohamed Salah situation is that it had absolutely nothing to do with him.

I understand the human side of it, that it is his team-mate and he is trying to take his side and he is trying to support him.

But my concern here is that you can do that on a private level. You can go to him and tell him that he made a mistake, 'make sure you don't do that again, I would advise you to make a public apology and just focus on yourself and your career and let's just get through this'.

You know what he has done, so the fact that he is still siding with him is really, really painful.

He is one of the most recognised figures in the world right now. This has pushed people to harass me even more.

You have no idea the amount of hate messages, threats and stuff that I am getting.

It is horrible to see yourself in memes and in comics and having everyone making fun of you and swaying away from the main problem.
View this post on Instagram
View this post on Instagram
View this post on Instagram
View this post on Instagram
View this post on Instagram
Just wish we could see the messages Amr Warda sent Merhan Keller because it sounds like some downright pervy stuff. I really think whether you dump him from the national squad should depend on how objectively bad those messages were. Is Amr Warda just another footballer trying to slide into some Instagram model's DMs? Or is he a particularly douchey chancer with no respect for women who thought Merhan would jizz herself at the mere fact he messaged her?
I guess we might find out if Merhan really does take this all the way to the courts. Meanwhile, she says another player from the Egypt national team has secretly messaged her offering his support. Hmm. Blatantly Mohammed Elneny. 
To meet the 'nice guy' who slid into a girl's DMs, got her number and then blew it in spectacular fashion, click HERE.