You probably remember the video we posted the other day of Instagram model AyyyeJae talking about how she sucked off seven basketball players in a row one night because it was so outrageous, but it turns out that wasn't even the most controversial part of her interview with Adam22.
Images VIA
It turns out that not only does AyyeJae love sucking dick, but she was also apparently once kidnapped by R & B singer Trey Songz, who took her phone, locked her in his hotel room and then urinated all over her when she wasn't expecting it. Sounds like a wild/scary night:
We focused on the wrong part of that interview, we gotta get Trey Songz outta here pic.twitter.com/hRLC4wO2Tf

— R3X🦖🇮🇲 (@bigdaddyR3X) August 19, 2020
If that's real then that's not cool at all, but Trey Songz has immediately come out to deny these claims, screenshooting some DMS between him and AyyeJae which he claims proves that nothing ever happened between them: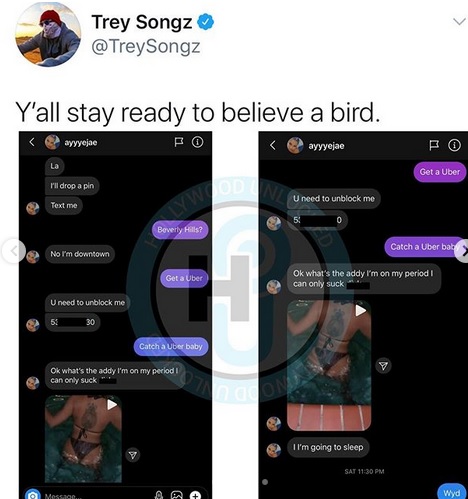 I usually stay quiet on this but I feel that in many ways the movement to fight for the women who actually have suffered harassment and abuse on various levels, has been hijacked by those who find it convenient for themselves to come up as they seek to destroy someone's life.

— Trey Songz (@TreySongz) August 19, 2020
I mean that tells us that nothing happened to them at one point in time, but it doesn't necessarily mean that what AyyeJae is saying didn't happen some other night. Seems like a weird move for him to release that if he knows he can be called out about it some other way though, right? Not really sure what to believe here.
AyyeJae herself has already fired back in her Instagram story, saying the following: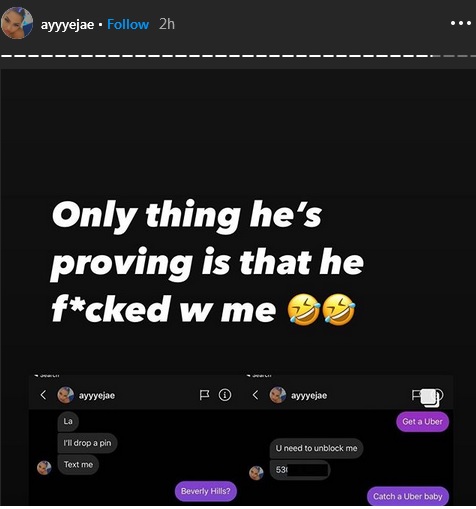 Yeah, not really sure if saying that is working in your favour there AyyeJae, but I guess at least she's acknowledging it? This feud is probably only going to get weirder in the coming days, so make sure you stick around for that as well.
For more of the same, check out the original interview about the basketball players. That was weird.