Your viral internet clip of the day comes from podcast 'No Jumper', in which host Adam22 spoke to Instagram models Ayyyejae AKA Aliza and Celina Powell about a number of vacuous topics, including the time Ayyyejae sucked 7 NBA players' dicks in one night. Lovely!
Watch below:
Nah what NBA team was letting this girl throat them like this at the same time 😭 pic.twitter.com/2XrS4Tc4UX

— Ⓜ️ (@WashedMel) August 18, 2020
Jesus, Mary and Joseph! Some girls have all the fun eh?
Get a load of the headline No Jumper used to share the clip on Instagram – "slurped up", lol:
View this post on Instagram
Also according to the podcast, Aliza and Celina met during a threesome. You probably think I'm making that up, but nope:

So yeah, Aliza "slurped up" 7 NBA players in a row in a hotel room after they walked in on her shagging someone else. Have to love Adam22's follow-up questions asking her "what happened to the nuts?" and whether she had a "weird reaction" to giving 7 consecutive blowjobs in one night. That's some grade A interviewing right there.
Over on Instagram, Aliza provided more details on the story – including that the NBA team in question was the Phoenix Suns: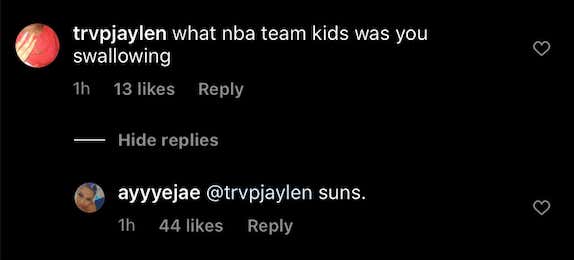 Devin Booker's penis was first in line: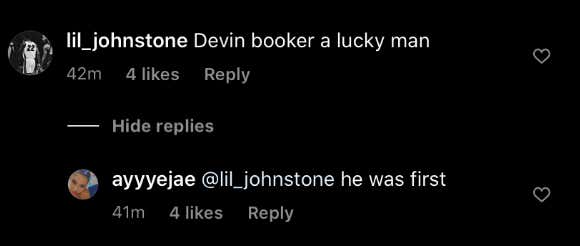 The best part of the clip though has to be Celina Powell (who was weirdly keen for her friend to tell the story) saying that Aliza is "shy" after she'd just admitted giving 7 blowjobs in one sitting to a team of NBA players. Almost worth sitting through those nails-on-a-chalkboard voices to get to that part.
The comments under the YouTube video are laugh out loud funny:






Wild stuff. Though I suppose it was a good team-building exercise for the Phoenix Suns. Hey, no harm done as long as everybody enjoyed themselves, right?
To watch an Instagram model in London freak out at a mum who confronted her for shooting NSFW content in front of her kids, click HERE. Classy lady.