Anybody who watched Ted DiBiase on WWF growing up knows he wouldn't be involved in any dodgy money-making schemes. After all he's the Million Dollar Man – the richest wrestler to ever step into the ring. Why would he need to embezzle charity funds for a measly $2.1 million?
Featured Image VIA
Via the New York Post:
A nonprofit religious organization founded by former wrestler Ted DiBiase — whose son, Brett, was indicted last week for allegedly embezzling charity funds — reportedly received more than $2.1 million in welfare from the state of Mississippi, according to the Clarion-Ledger.

DiBiase became a preacher after retiring from the ring and formed the Heart of David Ministries. … Brett was hired as a senior official at the Mississippi Department of Human Services by former director John Davis, among the six people indicted in an alleged scheme that stole more than $4.15 million in welfare funds. DiBiase's group received as much as $900,000 one year.

Brett, also a former wrestler, was given a $95,000 salary despite no clear qualifications for the position, and reportedly used $48,000 on rehab for his drug addiction. …

The state of Mississippi denied more than 98 percent of individual welfare applicants, while giving more than $2 million to DiBiase's foundation.
As I was blogging this I saw an update that confirmed Ted DiBiase has NOT been charged with anything, so I guess that backs up what I was saying at the start of the post. The Million Dollar Man may have been a ruthless bastard in the ring but even then, Ted DiBiase was benevolent enough to stuff a hundred dollar bill into his KO'd opponent's mouth. Not to mention how well he paid his servant Virgil to take ass-whoopings on his behalf and carry his Million Dollar Belt and whatnot. He may be guilty of a lot of things but embezzlement? The Million Dollar Man is innocent!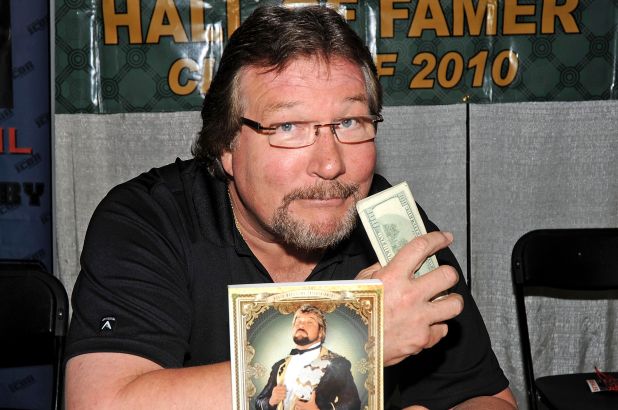 Sounds like his son Brett is screwed though. If he is found guilty, let's hope his crime doesn't affect the legacy of the richest man in wrestling:
For our 'Pro Wrestling Flashback' feature, click HERE. Features classic moments from Jake the Snake, Randy Savage and more.