There's a lot fo debate going on about Michael Jackson right now and whether or not he was a paedophile and more and more people are coming out to give accounts of their interactions with him to try and shed some light on just what was going on.
Featured Image VIA 
The latest of these is his former bodyguard for ten years, a guy named Matt Fides. Fides revealed to Metro.co.uk that he has absolutely no time for the allegations currently levelled at Jackson, but also says that Michael was a lot smarter and more manipulative than he led on:
He knew how to manipulate the media. He knew exactly how to get the front pages. He used to have a meeting as soon as he got to a [city].

90% of the time it worked, by putting a mask on his face, or sticky tape on his hands – or tape on his nose was a favourite one. He would say he wanted his life to be the greatest mystery on Earth.

It's backfired on him now, though, that's the sad thing.

He never used to live with makeup on. I remember one time we were watching TV at the [St Pancras] Renaissance Hotel in London and he wanted to go to [illusionist] Uri Geller's house for a curry.

He asked for the cars in an hour and he's off getting ready, getting his hair done and he comes out in the whole image, the mask and fedora, the whole works.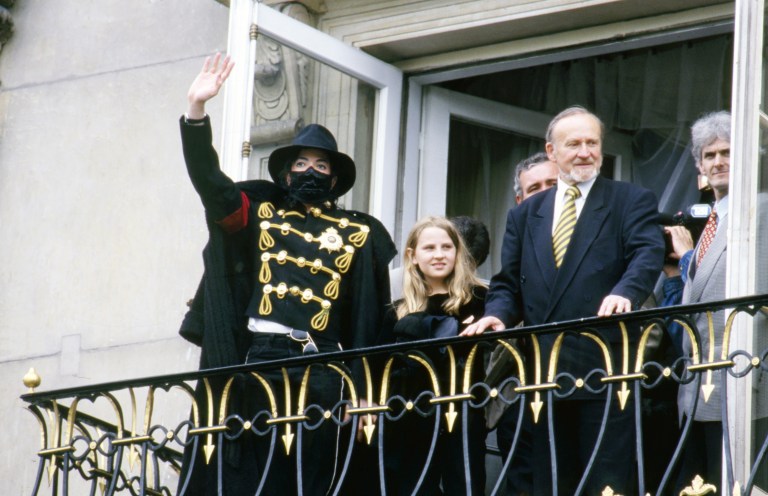 Back at home though Michael was more about a'glass of wine, bottle of wine, he'd be swearing, he'd be a normal guy.

He was super intelligent, couldn't sit down and watch a movie because he'd analyse every angle, very mistake the director made.

This whole paedophile thing is complete nonsense.The guy had girlfriends and had a legitimate marriage to Lisa Marie, that was the way he lived his life.'

They say there were boys around, that was not the case at all. He made Neverland how it was so he could have it for the Make A Wish foundation; something he could give back on,' the bodyguard and celebrity trainer said.

We had a running joke he was never there. He had to be in Los Angeles to conduct business, it's about four hours' drive from the mountains and he hated the drive, so he was very rarely there. He was there to make public appearances. He was much more comfortable at the Beverly Wiltshire in a suite.

If he was doing what he was doing to young kids he would never get any work done. He was already recording, performing and rehearsing, for him to be messing around with young kids would be impossible because of the security that was in place. It's impossible.
I mean I guess this guy doesn't have any reason to come forward and lie about Michael Jackson, but there are honestly so many conflicting stories rolling around about him I doubt if we'll ever get to the bottom of what really went on. You've gotta think that there wouldn't be so many allegations if there wasn't some shred of truth in them though, right?
For more Michael Jackson, check out this condensed version of the credibility issues facing his accusers.  A lot going on.