There have been lot of dumb people that have changed their names to some absolutely ridiculous things over the years, but this guy from Merseyside who loves Spam so much he's actually changing his name to 'I Love Spam' in a show of appreciation. Idiot.
Mark Benson explains his reasoning:
I eat Spam three or four times a week.

I do all the recipes and sometimes I make up my own as well.

I changed my middle name two years ago. It used to be William. My wife didn't think I was serious at first, but I just went and changed it.
Images VIA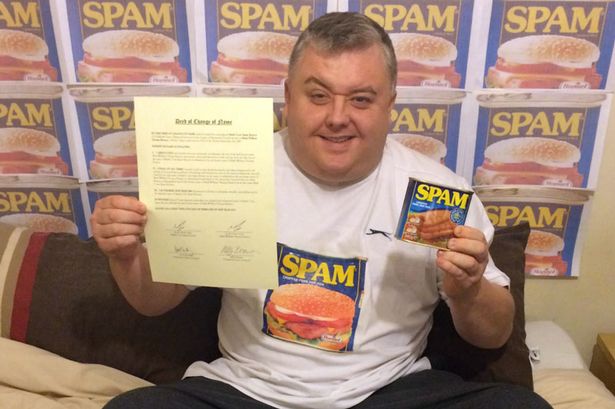 Now I'm waiting for a new passport. This will be my first one with my new middle name on it.

There are pictures of me when I was two years old enjoying a Spam sandwich. I love it.

My grandparents, nan and uncle all worked in the Spam factory so you could say it runs int he family!
Yeah, you could say that. You could also not change your middle name to 'I Love Spam' too because it's dumb, but whatever. I suppose he's at least changing his middle name and not his first name, but in all seriousness it's still completely dumb that he's wasting his time even changing his middle name. Dumbass.
For more completely ridiculous name changes, click here.