This Spanish photographer called Jon Uriarte had an idea for a photo collection that illustrated one of his favourite topics – how relationships between men and women had changed since his parent's generation. Not really entirely sure why this is one of his favourite conversation topics – hasn't he heard of anything cool like football or comic books or punk rock? – but it led to a photo series which is pretty funny and interesting in which he took pictures of a bunch of guys dressing up in their girlfriend's clothes inside a room in the house/apartment that they both live in.
The series is called 'The Men Under The Influence' and Uriarte states that his intention with it was to create images that not only highlighted the equality of balance in heterosexual relationships that exists now but also the feelings of confusion that a male may feel given the development in this relationship over the course of their lifetime. He originally started out the collection by taking pictures of couples in their abode, but realised that it was a much better image if he just dressed the male up in their girlfriend's clothes.
I've got to agree with him on that one because all of these guys definitely look kind of confused wearing their girlfriend's clothes. It's also cool how everyone he photographed seems to be a hipster and lives in the classic hipster apartment so it's definitely representative of the here and now in heterosexual relationships between young adults.
Check out a bunch of the pictures below. You can check out more of Jon Uriarte's work HERE. BTW this series was shot over a series of three years in both American and Spain. Well travelled, you know?
☛ More Photo Collections: 
Ku Klux Klan Photo Collection: Dark Images Of Small Minds 
Neil Buchanan Does NSFW On Art Attack  
Steve and Fonlin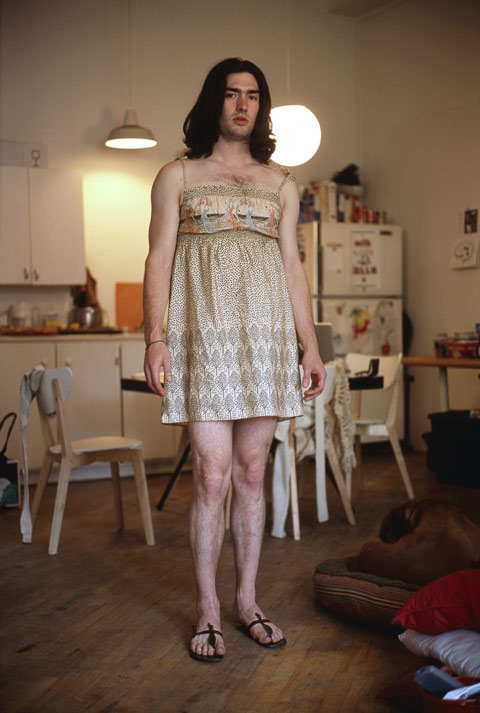 Carlos and Naia

Victor and Ana

Marcos and Lucia