It's been a bad week for President Donald Trump professionally, as he lost the American election and refused to accept the result by making up loads of nonsense about fraudulent voting ballots, but it looks like it might also end up being a bad week for him personally too as news has emerged that Melania is counting the minutes until she can divorce him.
Featured Image VIA
The scoop comes courtesy of one of Melania's former aides Stephanie Wolkoff who stated that the First Lady is currently in negotiations to ensure that the couple's son Barron receives an equal share of Trump's fortune post divorce. She also revealed that the couple had separate bedrooms within the White House and that their relationship was 'merely transactional'. Ouch.
Another former aide Omarosa Manigault Newman – who was also a star on the first season of The Apprentice USA – corroborated this story, saying the following to The Mail On Sunday: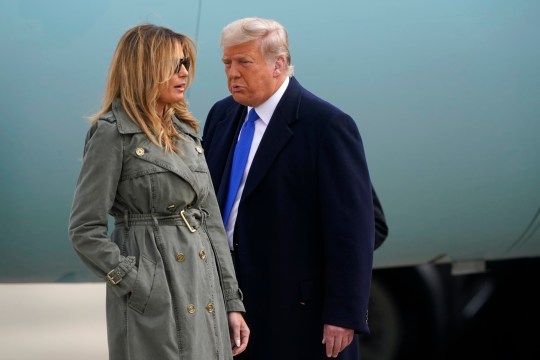 Melania is counting every minute until he is out of office and she can divorce.

If Melania were to try to pull the ultimate humiliation and leave while he's in office, he would find a way to punish her.

She burst into tears when he won the Presidential election in 2016.

She never expected him to win.
Well, I can't really say that that's too surprising, given the overwhelming evidence over the past four years that Melania completely and utterly despises Trump. Every time they make an appearance together it looks as though she's completely pained and would rather be doing anything else in the world and she also took over five months to move into The White House originally, preferring to stay in their apartment in New York. It just seems so obvious that she doesn't like him at all – she hasn't even really tried to hide it.
Would say that this is 100% going to happen in the near future and you might as well put a bet on it because it's easy money. Glad this is over for the poor woman, although you can't feel that sorry for her because she jumped into bed with the buffoon a long time ago and knew what it was all about, even if she never expected him to make it to President. Who could have, but she made her bed and had to lie it in for the past four years. Let that be a lesson to us all.
For more of the same, check out this very disturbing pattern in Melania Trump's photograph collection. Even more evidence of her hatred for Donald.