It was only a matter of time before people started talking about Meghan Markle in regards to Prince Philip's death and to be honest it's kind of crazy that it's taken over three days for us to write an article about it.
Featured Image VIA 
Prince Harry returned to the UK on Sunday without Meghan which I don't think anyone thought was too much of a big deal considering she's six months pregnant, we're still in the middle of a global pandemic and you're not supposed to leave the country unless it's very important AND that the entire Royal Family absolutely hates her, but now apparently she's told a friend that she didn't want to attend because she didn't want to be the centre of attention. Here's what this 'friend' said about it all: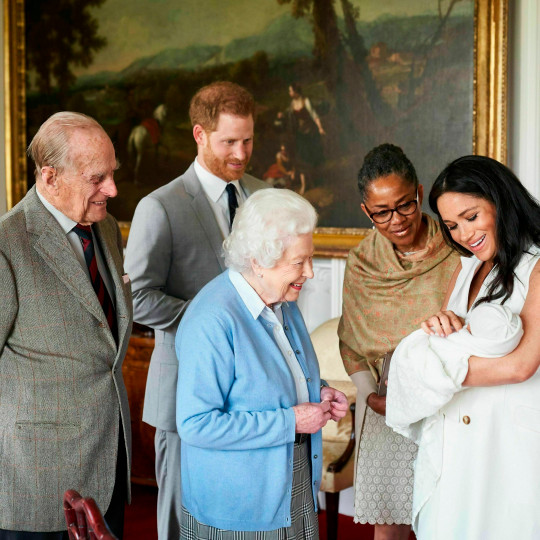 Meghan said her main concern right now is supporting Harry. She said she left it up to him as to whether or not she would attend the funeral.

Meghan said it's during these times when family should come together, put their differences aside and unite as one.

She said this is what Prince Philip would want and that she's willing to forgive and move forward.

Her mother Doria insisted that Meghan stay behind and support Harry from afar.

Like Harry, Doria is very protective of Meghan and doesn't want to see her putting her own health at risk.

Stress is the last thing Meghan needs right now.

Meghan said attending or not attending Prince Philip's funeral isn't going to change her relationship with the Queen.

She said the Queen understands her absence and would want her to stay safe and healthy for the baby.

Meghan said this is the opportune time for Henry to mend his relationship with his brother and his dad.

She doesn't need to be there for that.
That does sound rather reasonable doesn't it, although I'm sure some people will say that through leaking that statement Meghan Markle has made herself the centre of attention, or the fact that she hasn't bothered to turn up  – despite everything I mentioned earlier – makes her the villain of the piece again. Damned if she does and damned if she don't.
Hopefully everyone can stop talking about her for just a little bit though in honour of Prince Philip? That should do it, right?
For more of the same, check out Meghan Markle's sister saying that her and Prince Harry are headed for divorce. Surely not?