I thought that we might have heard the last of the Meghan Markle/Prince Harry and the Royal Family saga after a fairly low key week without it, but now some rather embarrassing information has come to light that makes Meghan Markle look like a bit of an idiot.
Featured Image VIA
One of the big takeaways from the pair's interview on Oprah Winfrey was that Meghan and Harry had actually married each other in secret three days before their big televised wedding and now Stephen Borton, the former chief clerk at the  Faculty Office is saying that this wasn't a valid wedding as there were no witnesses present. Here's what Borton had to say about the situation: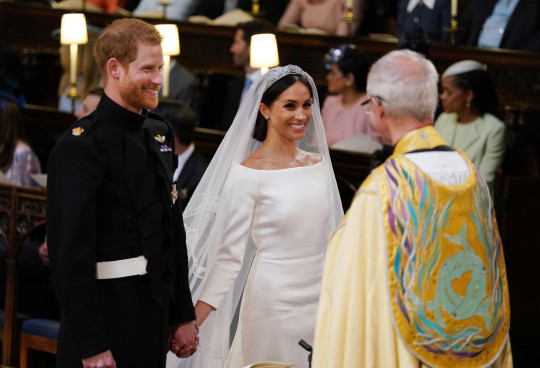 They did not marry three days earlier in front of the Archbishop of Canterbury.

The Special Licence I helped draw up enabled them to marry at St George's Chapel in Windsor and what happened there on 19 May 2018 and was seen by millions around the world was the official wedding as recognised by the Church of England and the law.

What I suspect they did was exchange some simple vows they had perhaps written themselves, and which is fashionable, and said that in front of the Archbishop or, and more likely, it was a simple rehearsal.
Ouch. That's a bit of a diss from him – basically saying that Meghan and Harry didn't understand what happened at this secret ceremony three days before – but I'm not sure if anyone out there is really going to mind or care too much about this, do you? It's not that big a deal although it will undermine the whole interview and get people to question whether or not everything she said during it was true. Really weird thing to get wrong and be called out about though hey?
For more of the same, check out Meghan Markle's sister saying that the pair are headed for divorce. Uh oh.